Bringing People Together
Interfaith group inspired by MLK
Dana Lynn Barbar | 1/10/2018, 11:15 a.m.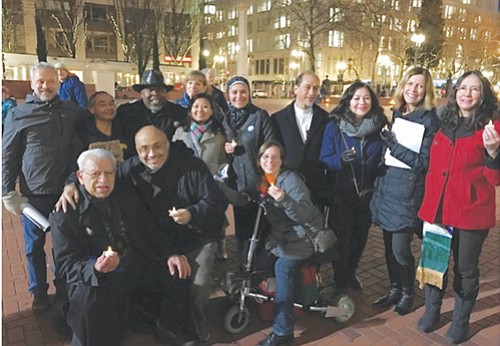 A group of local religious leaders of different faiths, known as the Beloved Community of Oregon, is now hosting monthly meetings for the public in an effort to bring people together. Influenced by the teachings of Dr. Martin Luther King, Jr., who promoted love, respect, and justice, these forums are planned with a commitment to justice for all in mind.
The Beloved Community began in September 2001 when members of the United Church of Christ and the Muslim community decided to meet weekly over lunch in an effort to bridge divides.
The community grew to include members of other religious institutions, and they continued to meet weekly since then. This last spring, they started monthly forums for the public in an effort to create dialogue an increasingly divided political climate and to foster more community engagement.
The purpose of the forums is to help people move past their fear of difference and deepen their community relationships while learning about and working towards a cause for the greater good.
Each monthly forum is held on the fourth Sunday of the month in a different location and takes on a certain issue or theme. Past forums have focused on gun violence, immigrant and refugee voices in public policy, and the history of how borders in Middle Eastern countries got drawn and how that impacted colonial dominance.
Guest speakers have included Bobbin Singh, executive director of the Oregon Justice Resource Center, Kelly Weigel, executive director of the Western States Center, and Ramon Ramirez, president of Northwest Treeplanters and Farmworkers United, one of the largest organizations representing the Latino community in the state of Oregon.
Rev. Hector Lopez, a former pastor of the Ainsworth United Church of Christ and founding member of the Beloved Community, said that his hope for these forums as they continue is for "people to come and be inspired enough to go out and be the Beloved Community in their own circles and organizations."
For information on upcoming forums, visit the Facebook page of the Interfaith Council of Greater Portland and look under the events section.