Dreams of Owning a Home in My Neighborhood
Pathway 1000 presents a path forward
Sommer Martin | 1/10/2018, 9:46 a.m.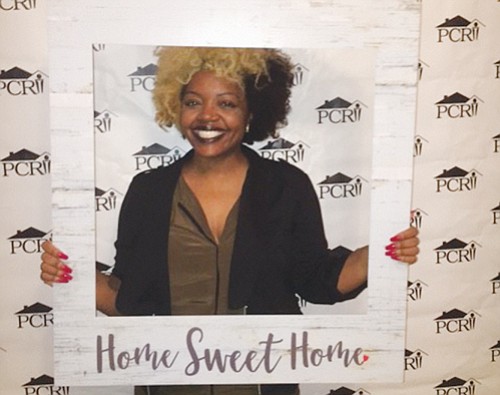 The thought of attending a work event on a Saturday morning was making my foot swell. Thoughts of staying home with a hot cup of tea, self-help book, blanket and home-cooked meal were out the window, as my company, Portland Community Reinvestment Initiatives, Inc. (PCRI), was hosting its second Pathway 1000 Homeownership Education Forum at the Portland Metropolitan Workforce Training Center, a few miles away from my mother's house, with whom I live with, begrudgingly.
Let's face it, I am in my early 30's, I work full-time, and the only affordable place for me to reside in Portland is a shared living space with ye ole Mother Hen. It is as lively as it sounds.
It was incredibly grey that Saturday morning. The drive over was slow with the melodic sounds of rain. The movement from windshield wipers made me even sleepier. More hateful, I arrived at the location a few minutes early, to see a small number of cars scattered like confetti around the parking lot.
After parking, I noticed a woman walking briskly to the event space trying to escape rain and wind, all the while trying to keep her outfit dry and her hairstyle intact. I giggled to myself. 'I feel you, sis.' My umbrella went up, and I jogged to the front door.
Inside were a few people sitting, standing and milling about, snacking on delectables from our continental Panera Bread breakfast. I made a beeline towards the food and found a cozy spot next to Jackie Butts, Homeownership Program Manager for the Portland Housing Center, one of our featured guest speakers. After a brief conversation catching each other up on our lives, I began to see more people from the community tickle in. But my coffee had not yet taken effect and I was set on everybody within a five mile radius knowing I was only there for work, and that I would prefer to be in my bed.
Maxine Fitzpatrick, PCRI's executive director, walked in and there was a visible sigh of relief from Yvette Davis, the organization's Homeownership Program Coordinator. The show could not start without Maxine.
Introduced to a room full of eager ears, Fitzpatrick spoke about her initial 5-year commitment to PCRI and Portland, and how she ended up staying another 20 years. She spoke of PCRI's homeownership initiative, Pathway 1000, which will involve building 1,000 units of affordable housing. The new construction sites are in north and northeast Portland and include townhomes, space for commercial businesses, and The Beatrice Morrow and King Park apartments.
With comedic timing laced with facts about generational poverty in the black community, Portland specifically, Fitzpatrick described how Pathway 1000 would combat generational poverty through job training, improving educational pursuits, and homeownership.
"The city reneged on its urban renewal plan, but you have a right to return to your neighborhood," she explained.
I thought, "What is keeping me from owning a home in my old neighborhood?"
My family owned the four bedroom two bath home I grew up in. I knew nothing about what it took to keep our house up and running, how it helped our family financially, or the home buying process. I just remember how it felt. It felt good to come home from school, and know our house was ours. It felt good not "living on top" of other people in an apartment complex. It felt good investing in our neighbors and vice versa. It even felt good witnessing the pride my mother took in her garden.
We ended up selling the house. The reasoning behind doing so was that there was too much space and not enough people to inhabit it after my brothers and I moved out. We didn't think far enough into the future of how this sale would affect all of us. Our beautiful home now belongs to a white family, and each of us either rent rooms or reside in apartment complexes.
Just thinking about not having our family home anymore was so upsetting. I could feel the anger begin to radiate from my kneecaps as the words from Hosea 4:6 crept into my mind, "My people perish from the lack of knowledge."
A concise yet informative YouTube video from John Hope Bryant of Operation Hope, followed. Bryant was speaking with Roland Martin, host of NewsOne, about the rules of economic liberation and how we, as black people, "didn't get the memo," about building up our credit scores.
"We are living in economic slavery right now," Bryant said.
Wow. What a sobering statement. As an undergraduate student from Oregon, I remember arriving for college in Tennessee, and the first thing I did was apply for a credit card. I did not read any of the small print, compare credit cards or anything. I just started swiping. And you get a meal! And you get a meal! And you get a meal! My friends and I would go shopping, and I would apply for credit cards in the store. Swipe, swipe, swipe! In my mind, this was free money. Free money with no responsibility was my mindset for the next few years. Those decisions I made then, are the reasons why I am where I am financially now. I have to clean up what I've messed up.
After the video, Wyman Winston of WHEDA took the podium. "Make a conscious decision not to be a tenant," he said. I began to sit up a bit straighter. "It's cheaper to own a home than to rent. Homeownership will keep more money in your pocket. You have to begin with your sense of who you are. What are you doing?"
Hmmm. .what am I doing? Sitting on my mother's couch, under a blanket, drinking tea, reading self-help books and eating homemade food. These things sound like fun, but I could be doing all these things in my own home.
Jackie Butts' presentation on the partnership between PCRI and the Portland Housing Center interrupted by daydreaming. The center provides Getting Your House in Order classes, culturally-specific financial education for African-American and Hispanic people, in addition to homeownership counseling.
Butts took us through a Five C's of Credit exercise. She encouraged us to look at our finances, our budget, and get homeownership counseling because, "with homeownership counseling, you are 30 percent less likely to go into foreclosure."
In the end, I thought the forum was a success. It forced me to look at my finances and homeownership differently. It helped me imagine what I want to see change in Portland. I want to see black and brown people walking their dogs, in their neighborhoods, riding their bikes, going to their stores, buying from their businesses, and taking their children to their neighborhood schools. I feel empowered to be an active member of an economic movement in my city where I get to see people who look like me, thriving.
Sommer Martin is media coordinator for Portland Community Reinvestment Initiatives, Inc. (PCRI)