Promoting Black Male Achievement
Community driven group fights for progress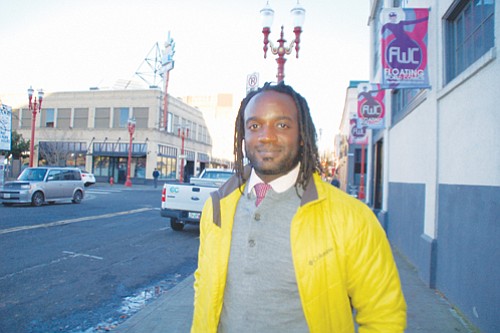 Black Male Achievement, an organization that runs within the city of Portland's Office of Equity and Human Rights, has been fighting to improve the life outcomes of black men and boys since 2014.
Among its many efforts, the group recently helped push Portland Police to eliminate the compiling of lists of suspected gang members because they unfairly targeted residents of color and were not effective in curtailing crime.
"We're in the city so the Portland Police Bureau is part of the same entity. So we have a ton of opportunity there," C.J. Robbins, Black Male Achievement's coordinator, told the Portland Observer.
Robbins works with a 20-person steering committee led by black male leaders of the community who focus their efforts on the justice system, employment, education and family stability.
The group's economic development subcommittee, led my Portland Opportunities Industrialization Center Director Joe McFerrin II, recently helped improve the success rates of young men of color in high school completing work-readiness training.
The county-sponsored Summerworks job training program improved its success rate of African American youth completing internships from 17 percent to 90 percent.
Last year, the group's Family Stability subcommittee coordinated a healing summit for black men and boys experiencing trauma to improve home life.
Robbins said there's more work to do.
He credits Antoinette Edwards, director of the Office of Youth Violence Prevention, and Erika Preuitt, director of Adult Services Division of Multnomah County's Department of Community Justice, as two influential figures, among many others, in the early stages of Black Male Achievement's formation.
Robbins came on board in 2015 after being a stay-at-home dad for a year. Before then, he worked with Portland Opportunities Industrialization Center, which is a non-profit working to secure the future success of at- risk youth through employment training, education, mentoring, and family outreach. Before then he was a law student.
He said he was inspired to do direct public service or policy work, instead of pursuing a career as a lawyer from the experience he gained working under the supervision of a defense attorney in law school
"I saw a very broken system," he said. "I saw way too many, especially young men, who were black and brown who were coming in at a point where they had no options. And I could see that there are clear signs the person needed help, long before they stepped into the courtroom."
Robbins said he jumped at the opportunity to work with Black Male Achievement because it aligns with his values and affords him a chance to address some of the issues he'd witnessed assisting with court cases.
Ongoing issues the organization is currently trying to reform are Measure 11, Oregon's mandatory sentencing law that allows minors to be tried as adults for violent crimes, and how school resource officers are used in public schools.
The group's Justice System subcommittee is focused on reforming the way Measure 11 is used in courts. The mandatory sentencing law that Oregon voters passed back in 1994 sets mandatory sentences for 21 violent crimes and mandates that youths be charged as adults for those crimes.