Putting At-Risk Kids on Path to Non Violence
Youth mentor speaks from experience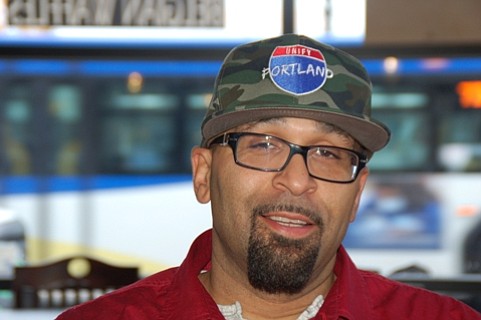 Dontae Blake, 43, is an ex-gang member from northeast Portland trying to reconcile his past by connecting younger gang members to nature in an effort to prevent them from going down the same path he once walked down.
Blake has been working for over two years with a non-profit organization whose aim is to decrease community violence by doing outreach for at-risk youth and creating pathways to education, careers, mentorship and community service. He takes kids on nature excursions that include whitewater rafting, mountaineering, wildlife viewing, and hiking trails in the central Oregon area around Bend, through the program, Unify Portland, Living Free.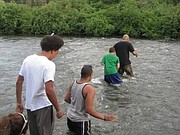 "I haven't had a disappointed kid yet. It's like watching a kid at Christmas," he said. "They just turn into kids, even active, young active gang members."
Blake was one of hundreds of people taken off a gang designation list after the 20-year-old practice was phased out by the Portland Police Bureau in October.
Mentoring and recreation programs, which are Living Free's flagship services, were listed as two of the top strategies suggested by community leaders to reduce the gang problem in Portland, second only to jobs and job training, according to a Multnomah County Comprehensive Gang Assessment from 2014. The same report stated that there were around 133 gangs in the Portland area.
Blake started mentoring at-risk youth back in 2010 while attending Central Oregon Community College in Bend, using his own tuition money and food stamps to fund the excursions. When he came back to Portland after college, he started attending Community Peace Collaborative meetings held every other Friday at the North Portland Police Precinct, organized by the City of Portland's Office of Youth Violence Prevention.
Formerly known as Portland's Gang Task Force, the public forum changed its name in 2014 to Community Peace Collaborative. The meetings are designed to intervene and prevent youth violence in Multnomah County by building support networks for youth and families, according to the Office of Youth Violence Prevention website. Community members such as individuals, law enforcement, businesses, city bureaus, faith communities, and neighborhood coalitions have participated in the meetings.
"I actually went there myself and told my story, that's how all this opened up to where it's a possibility where I might be getting grants or help from some organizations that can help me bring more kids down here, do it on a bigger scale," Blake said.
Blake said one of his mentees at the meeting broke down crying while telling his story.
Though Blake does not work with police, he said police officers have voiced their support of his mission of non-violence. The encouragement he's received has drastically changed his view of police from when he was a child.

"I hated them growing up. They would arrest my parents. Even though they probably needed that, as a kid you don't see it that way," he said. "And I've been beat up by some bad ones or whatever…and it just starts a long line of hate, you know?"