Putting At-Risk Kids on Path to Non Violence
Youth mentor speaks from experience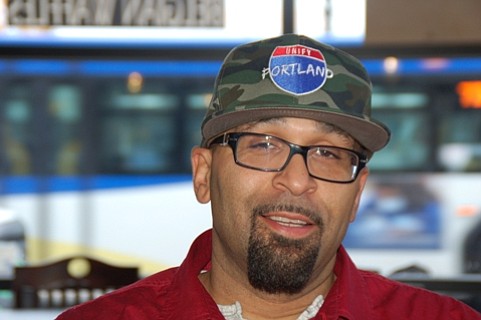 Blake fended for himself when both his parents were locked up. And when they were home they used their house as a crack den, he said. He experienced physical abuse from some of the clientele that came in and out of their house and had to learn to fight back.
"I always, when I was young, dreamed about going camping and sitting around the campfire and burning marshmallows. Instead I was sitting in the living room, eating cheerios, waving the crack smoke out of my face," Blake said.
At around 11 or 12 he started "pretty much living on the streets" near Columbia Villa in north Portland and saw the violence that plagued that community firsthand.
"Ray Ray Winston got killed right in front of my eyes..uh...when I was 12 or 13 and that just took me down my career of gangbangin' [… ] they took hold of me, the Crips," Blake said.
Blake then got wrapped up in the violent lifestyle of the gangs, having shot others and having been shot himself.
Blake spent time at the MacLaren youth correctional facility and prison, but during his final bout in lockup he began spreading the word of non-violence to the younger gang members coming in.
Blake said getting married and being a parent of five children made him want to change.

"I was already moving into a more positive state," he said.
Poverty, a friend or family member being in a gang, wanting to feel loved or have a sense of belonging, and family problems were listed by community leaders as the main reasons people join gangs, according to a Multnomah County Comprehensive Gang Assessment report from 2014. Not feeling accepted and lacking positive activities to participate in were other reasons listed. That same report found that becoming a parent, new family responsibilities and getting married were top reasons why former gang members quit being in a gang.
Once he got out of prison in 2008, Blake returned to Portland and began spreading a message of non-violence to the gang community he once identified with. He soon found his lifestyle change as a student in central Oregon.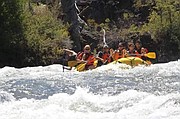 "So I started going camping and meeting people out here [in Bend]. It was like, uh, I wasn't a gang member anymore. When I'm way out on the trail, with my backpack and my water and I'm by myself I'm just out there with nature, I'm seeing deer and fish jumping in the river. And it was just, you know, I don't want to lose this anymore," he said.
Blake said he received a call while living in Bend from some kids in a gang in Portland who wanted Blake's help in retaliating against a rival gang. He said he couldn't help them in that way, but invited them to Bend for a week in the outdoors to see if he could help get the rivalry squashed and cooled off from a far.
They agreed and Blake took the young gang members hiking on Mt. Bachelor where they experienced an oasis of waterfalls and snow in 90 degree summer heat, wearing shorts and hoodies.
"We got in the water and they were splashing around and one of the kids wouldn't get in. So we were splashing water on him, he was a tall kid, like 18 years old. We were splashing water on him. He finally gets in, and when he gets in, sir, he turns into a total kid. I mean like, he's spinning around in the water making waves and making water fly in the air. He said 'man, thank you, I haven't been in the water like this outside of my bathtub.' And I had an epiphany in that moment that this is something I wanted to do."
According to a 2005 study from American Academy of Pediatrics, peer mentoring for younger children may be an important component of efforts to reduce youth violence.
The Office of Youth Violence Prevention continues to hold Community Peace Collaborative Meetings from 10 a.m. to 11:30 a.m., every other Friday at the Portland Police Bureau's North Precinct.