Swiggle Mandela's Cross Promotion
Local rap star takes 'Stoopid' to the next level
1/10/2018, 10 a.m.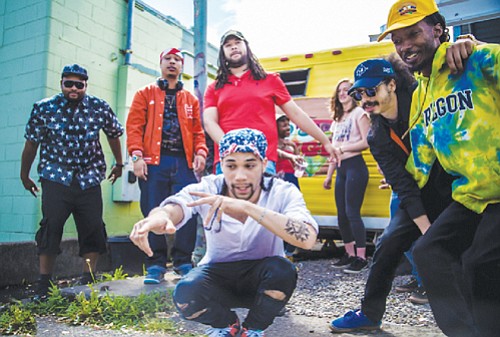 If you support local black-owned businesses, independent artists, and great music you should definitely be listening to Swiggle Mandela.
The Portland native recently released a trailer for a new song he's calling "Stoopid Juice." It is the sequel to his locally loved hit "Stoopid Burger" named after Portland's number one burger joint, "Stoopid Burger," a food cart turned restaurant that is owned and operated by other local members of the black community and is now located at 2329 N.E. Glisan St.
Swiggle Mandela is a prominent Portland hip hop artist known for his versatility in music. He is also constantly innovating and bringing new business models to a vibrate growing entertainment scene in the city.
"I feel like my music video for 'Stoopid Burger' and the trailer to 'Stoopid Juice' are basically commercials for the restaurant and I feel it's important for entrepreneurs of color to support each other," Swiggle Mandela said. "I think it's very important to represent entrepreneurship in my music, especially for people of color."
The song "Stoopid Burger" touches on many social issues such as gun violence and mass incarceration. While the music is fun and modern, it also has very deep messages.
You can watch the music video "Stoopid Burger" and the trailer for "Stoopid Juice" on YouTube.com, Facebook or Instagram by searching Swiggle Mandela or check out the trailer below.