Our Beautiful Mother
Pearl Smothers Mashia
1/11/2018, 11:11 a.m.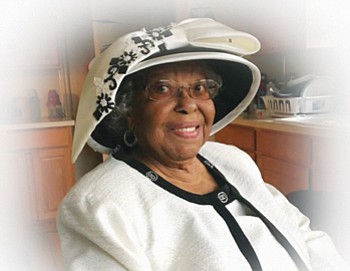 A quiet and lovely lady passed our way. She shined for many years--a beacon of light! There was so much to be done, so much to learn during her Christian journey--family, friends to cherish. She would like to say she needed more than the 94 years she was given, but she wasn't one to be greedy.
Pearl Smothers Mashia was born Sept. 3, 1923 to parents, Rosalie Haley Smothers and Will Henry Smothers in Bains, West Feliciana Parish, Louisiana. Surrounded by her loving family, she entered into eternal rest on Jan. 8, 2017, passing angelically as she looked up into the face of God.

Mother Pearl accepted Jesus Christ as her personal savior and was baptized at the tender age of 5. She loved the word of God and worked diligently in the church from childhood until God called her home. In 1965, she relocated her family from New Orleans to Portland (7 girls and 3 boys) and immediately joined New Hope Missionary Baptist Church under the pastorate of Rev. A.A. Newton.
A faithful servant, she was a member of Usher Board #1, a Sunday School teacher and president of the New Hope Mothers' Board. She was a member of the Sermonette's singing group and served the Portland/Vancouver Gospel Music Workshop Chapter. She was a dedicated member of the Delta Sigma Theta Sorority's Mothers and Patroness Club. She studied the Bible daily, completing a Bible Study Fellowship classes twice, always wanting to grow in the knowledge of Jesus Christ.
A great seamstress, she worked at Meier and Frank in Ladies Alterations, retiring at age 65. Never one to sit idle, she began working as "Grandma Pearl" with the Foster Grandparent Program as a volunteer. She was an attendance secretary at P.O.I.C.-Rosemary Anderson High School until she was 90 years old!
Mother Pearl leaves to cherish her memory, her children; Pearl Thomas, Donna Harris (Antonio), Anita Craig (Donovan), Rose Mashia-Jones, AJ Mashia (Joanie), Lucy Mae Mashia, Eric Mashia (Magdaline), Linda Mashia-Jones, Ava Mashia and Lance Mashia (Charlene).
Preceding her in death were her parents; three brothers, Henry (Gertrude), Leon and Charles Smothers; son-in-law Willie Thomas Sr.; and grandson Leonard James Irving Jr. She leaves to mourn 24 grandchildren, 23 great-grandchildren, 6 great-great children and a host of nieces, nephews, relatives and friends.
Home Going services will be Saturday, Jan. 20 at 10 a.m. at Mt. Olivet Baptist Church. Viewing will be Friday, Jan. 19 from 5:30 p.m. to 7:30 p.m. at her home church, New Hope Missionary Baptist.