Perspectives in Leadership
Blazers executive to address young professionals
1/11/2018, 12:12 p.m.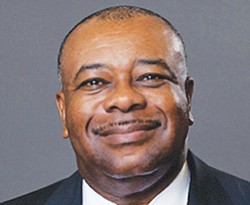 The Urban League of Portland Young Professionals, a volunteer group helping build a pipeline of young new leaders who consider Portland as their home, will host a free career and leadership discussion for young professionals on Tuesday, Jan. 23 at the Moda Center.
Co-sponsored by the Portland Trail blazers, the event will feature Michael Lewellen, an African American and Blazers vice president of communications, as guest speaker. The event, "Leadership Narratives, Transition Moments that Shaped my Career," will start with a networking opportunity at 5 p.m., followed by a discussion and question and answer session with Lewellen.
Before directing the Trail Blazer's corporate communications and public engagement strategies in 2012, Lewellen held senior positions spanning 30 years with companies like Nike, Turner Sports, Fox Sports Net, Black Entertainment Television, and NBC Universal as a media strategist, reputation manager, sports and entertainment publicist, and brand communicator.
The National Black Public Relations Society honored Lewellen in 2005 with its highest honor – the Founders Award – for his achievements in the public relations profession, one of many the honors he's received throughout his career.
The Urban League of Portland Young Professionals encourages young professionals to empower their communities and change lives through the Urban League Movement and encourages volunteerism in the areas of advocacy, civic engagement, and leadership development.