Billboard Called Racist
King Neighborhood asks for new message, apology
1/17/2018, 10:41 a.m.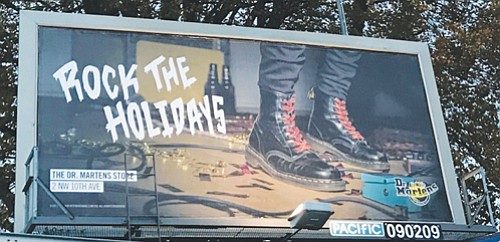 A seemingly innocuous billboard advertising Dr. Martens boots that has popped up around northeast Portland and in other locations has been called out as harboring a racist message. The billboard, which reads "Rock the Holidays," features a picture of boots with red laces, a symbol of white supremacy, activists said.
In a letter from the King Neighborhood Association directed to Pacific Outdoor Advertising, the company responsible for putting up the advertisement, the citizen-directed group explains how red-laced boots have been used as racist imagery for a person who has violently attacked a person of color.
The letter cites the Southern Poverty Law Center's online guide to skinheads, which states that "racist skinheads will often randomly attack non-whites to 'earn' their red laces."
"Consequently, your billboards are offensive to us, our neighbors and our neighborhood," the letter states. "Surely you would not let your billboard portray the burning crosses of the Ku Klux Klan, yet Dr. Martens' display is simply a more subtle communication of a similar message," the letter added.
The letter calls for the billboard to be taken down, an apology message to be posted in the same spot and that the advertising company "publicly disavows" the racist message of the image.