Pastors as Advocates for Social Justice
Haynes and Bethel honored for community service
1/17/2018, 10:24 a.m.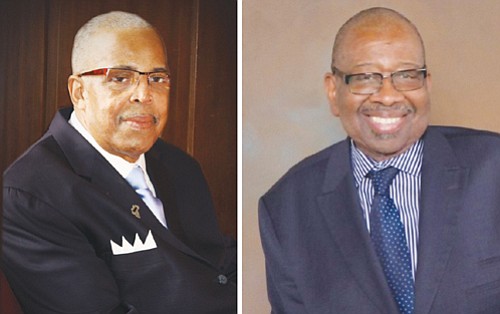 Two African American Portland pastors dedicated to advocating for social justice and social change, Dr. LeRoy Haynes of Allen Temple CME Church and Rev. Dr. T. Allen Bethel of Maranatha Church, were recently honored for their longtime work in the community.
In December, Haynes and Bethel were awarded the Lowenstein Trust Award, named after Steve Lowenstein, a late Portland leader, activist, Jewish scholar and former Peace Corps member who advocated for civil rights and was a community role model for human rights and social justice work.
Bethel and Haynes are known for tackling issues of racial inequality, justice system reforms, violence, gang issues, gentrification, minority contracting, homeless assistance and health care inequities. They serve as volunteer advisory members on a number of community panels, some involving city, county and regional governments.
The two pastors separately moved to Portland about 20 years ago. Each of them grew up in segregated communities in the South. In Portland, they have both worked to end criminal justice inequities and bring about reforms by working with prisons to support families, reduce recidivism, and assist former inmates in their return to a constructive community life, among many other social justice efforts.
Haynes' Allen Temple provides homelessness assistance, gives people in need access to clothing and other essentials for everyday life, and provides self help assistance with job interview preparations, employment training programs, and housing application assistance. Both churches partner with the Oregon Food Bank to provide meals to struggling community members.
Pastor Haynes has actively supported efforts to address health care inequities by providing HIV/AIDS outreach and support. Rev. Bethel has advocated for a healthier community by supporting environmental protection and strengthening public investment in urban parks for all.
"When reviewing nominations for the Lowenstein Trust award, it is always heartening to see the range of outstanding work being done in Portland. Pastors Haynes and Bethel truly exemplify the spirit of the Steve Lowenstein award through their commitment to effectively serve those most in need," Lowenstein Trust Chair Joe Hertzberg said.