Trump's Rhetoric Backlash
Uses words laced with profanity and racism
1/17/2018, 10:48 a.m.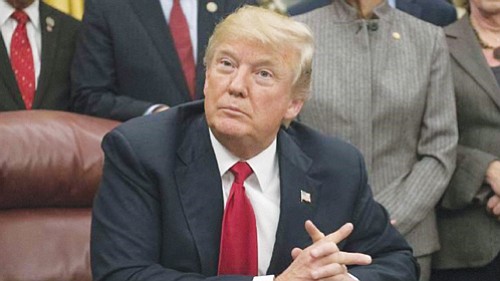 President Trump has once again garnered worldwide criticism for profane and racist comments, this time about African countries and Haiti during an Oval Office meeting with several members of Congress to discuss bi-partisan immigration plans.
"Why are we having all these people from sh*thole countries come here?" Trump was quoted as saying when the discussion turned to immigrants from Africa. He also condemned immigration from El Salvador. "We should bring in more people from places like Norway," he added.
The statement occurred on the eve of the Martin Luther King Jr. national holiday and King's daughter, Bernice King, expressed her condemnation of the comment on a Facebook live video Friday. "We've heard so many things from him via Twitter and otherwise that have been troubling to our humanity," the activist said.
The Lawyer's Committee for Civil Rights Under Law, a nonpartisan organization addressing racial discrimination, released in a statement saying, "It is no surprise that we have seen a spike in hate crimes and hate violence across the country because we have a President who, without hesitation, expresses racial animus toward people of color."
The NAACP also joined a chorus of others who derided the comment:
"As our nation fights to move forward, our President falls deeper and deeper into the rabbit hole of racism and xenophobia. The United States' position as a moral leader throughout the world has been thoroughly damaged by the continuous lowbrow, callous and unfiltered racism repeatedly espoused by President Trump," the NAACP statement said.
Just last month Trump stereotyped people of color in Haiti and Nigeria saying they lived in huts and had AIDS.
"This has white supremacy written all over it—yet again," the multi-racial group Advancement Project added.
Oregon Sen. Ron Wyden Tweeted his condemnation as well, saying, "Donald Trump's disgraceful comments prove that he does not even know what makes America great."
President Trump later denied that he used the words mentioned.
The comments came about during a meeting at the Whitehouse Oval Office organized by Illinois Sen. Dick Durbin and South Carolina Republican Sen. Lindsey Graham to discuss a bi-partisan plan for Dreamers, or Deferred Action for Childhood Arrivals recipients. About 700,000 Dreamers will face deportation March 5 due to the President's revocation of DACA.
This is not the first time President Trump has drawn international criticism for racist remarks. Last year Trump did not immediately condemn racist violence in Charlottesville Virginia, and later said that there were "very fine people on both sides."