Recruiting Candidates
Color PAC executive hits the ground running
Dana Lynn Barbar | 1/24/2018, 10:44 a.m.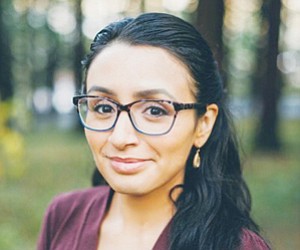 Color PAC, a local organization dedicated to improving equity in public policy by recruiting, training, and supporting candidates of color for state and local office, has expanded its mission with the hire of their first-ever state director.
Ana del Rocio, endorsed by Color PAC during her successful campaign last spring for a seat on the David Douglas School Board, started her duties with the New Year and is tasked with creating and cultivating a plan to engage the broader community with the political organization's mission.
She plans to visit different parts of Oregon over the next few weeks to meet with leaders from diverse communities and explore the possibilities and opportunities for growth.
"I'm committed to Oregon, and want to make sure it's a place where my family, and families that look like mine, can thrive," she said. Del Rocio is of Peruvian descent.

One of del Rocio's main goals is to reach more people of color who are leaders in their communities and arm them with the information and tools they need to offset any notions of whether they have "what it takes" to be an elected official.
She hopes that her own story as an elected official will inspire "regular" people like her to move past doubts and play a role in shared governance.
Del Rocio finds that many people in racial and ethnic minorities feel that they cannot hold public office for a variety of reasons, a large one being the historical lack of representation of people similar to them holding these roles.
"I'm just a single working mother, and people can look at me and see a regular person who happens to be in office," she said.
On average, it takes a potential candidate of color being asked to run for office eight to 10 times before they agree, according to Jesse Beason, board chair at Color PAC. He noted however, that since the presidential election in 2016, people have been more willing to get involved and take action.
Color PAC is run by a board of volunteers which helps build a network of recruiters to find and encourage people of color to engage in local politics, and provide them with tools to help them succeed. These include individual trainings on how to run a campaign, fundraise, and engage volunteers.
"We need people in office who represent who Oregon is and is becoming," said Beason.

Another main priority for the board is to provide ongoing support for candidates after they have been elected.
Champions of color have historically lacked political infrastructure in Oregon, and find that most current systems are not designed for their leadership and ideas, and thus rarely serve more than one term.
"We want to help candidates not only run and win, but govern effectively when they get there," said Beason on the importance of retention. "Inequity stems from public policy, so we need more people of color to be decision makers, with their personal influences that stem from their lived experience of race," he added.