African Films
Festival celebrates Black History Month
1/30/2018, 12:44 p.m.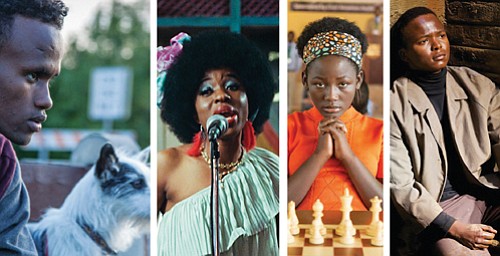 The worldview of many Americans is shaped in large part by what they see on the evening news – but the news can be an imperfect lens that provides an incomplete picture of peoples, events, and cultures. And too often, where the nations of Africa are concerned, the picture is even less complete.
In Portland, though, there is a remedy – the Cascade Festival of African Films. Now in its 28th year, the festival sponsored by Portland Community College offers audiences the rare and edifying opportunity to see Africa through the lenses of its own people. As always, the festival is free and open to the public.
A slate of 25 new films are scheduled through March 3 for screening from across the African continent. The longest-running African film festival in the United States draws in excess of 4,000 attendees each year, and has become a fixture of Portland's cultural calendar.
This year's festival opens Friday, Feb. 2 with back-to-back screenings of "'76" (Nigeria, 2016), with visiting Nigerian director Izu Ojukwu in attendance.
"'76" is a political thriller and love story – inspired by true events – set against the backdrop of an attempted 1976 military coup.. Each screening will be followed by a Q&A with the director, and to cap off the opening night in style, a '70s-style Afrobeat dance party will follow the second screening of "'76," starting at 11:30 p.m.
Most screenings take place during the month of February at PCC Cascade's Moriarty Auditorium, 735 N. Killingsworth St. Each Saturday, a popular "Saturday Social Hour," starts at 5 p.m., and features live music, food and an African marketplace.
Seventeen nations from across the African continent are represented in this year's lineup. This year's centerpiece film is "A Season in France," a 2017 French-Chadian co-production about a high school teacher who flees the war-torn Central African Republic for France.
Other films with an immigrant or refugee lens include the family friendly film "A Stray" about the struggles of a young Somalian boy in the U.S. who befriends a stray dog, or "Zainab Hates the Snow" which follows a Tunisian family's journey for five years as they immigrate to Canada.
New to the festival will be the participation of PCC students who were either born in Africa or who have immigrated to the United States. The students will be paired with films from their country of origin, and will take part in post-screening discussions about the films and about the culture of and conditions in their native countries.
For complete schedule and director appearances, visit africanfilmfestival.org.