Tubman's Revival
Educator with deep community ties plans school's future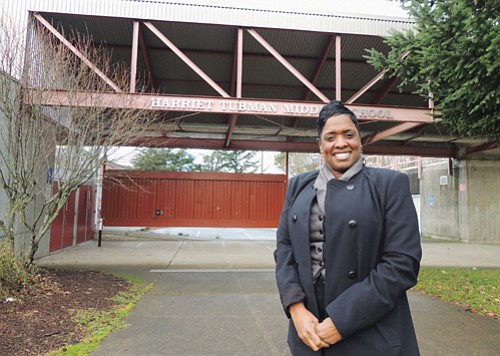 "My hope is that school can be everything that a kid needs," she said.
Another aim is to make the school a community resource, a place where parents might go to find help with their job search, for example, or as a resource for information about home ownership or how to do your taxes.
Butler is a former principal at Open Meadow (now Open School) in Portland. She was an assistant principal at both Martin Luther King Jr. School and Margaret Scott Elementary. She also was a former teacher at Whitaker and Beaumont Middle Schools.
Though she's had an illustrious career in education, she said she originally wanted to be a news anchor and pursued a speech communication degree as an undergraduate student.
"I was at a cross roads where I didn't know exactly what I wanted to do. And I was introduced to the Portland Teacher's Program. And a good friend said 'I think you should be a teacher.' And then the rest is history […] thank God for second chances," she said.
Since then, Butler has earned two master degrees — one in education and one in administration from Portland State University and the University of Portland, respectively. She's since put those skills to work in high ranking roles at SEI Academy, St. Andrew Nativity School, and De La Salle North Catholic High School, establishing academic programs, developing curricula, and creating training workshops for teachers.
She also was a department chair at Portland Community College, following in her father's footsteps. Harold Williams was the longest standing board member at PCC. He was so influential that PCC's basketball court is named after him. His picture is also on a place of honor on the side of the Urban League of Portland building, near Tubman, and a bench is named after him at nearby Dawson Park.
"He was definitely one who was a trend setter. Wasn't afraid to kind of push the envelope a little bit and get people to think outside the box," Butler reminisced. "My dad was very, very, aggressive about really maintaining a presence. Because he could forecast that this area was changing and that, you know, many families would be priced out of the market."
Butler said she tries to instill the values her father pushed, like making sure all his kids were educated and had passion for the community.