Boogie at the Waterfront
Waterfron Blues Festival nation's second biggest
7/3/2018, 4:01 p.m.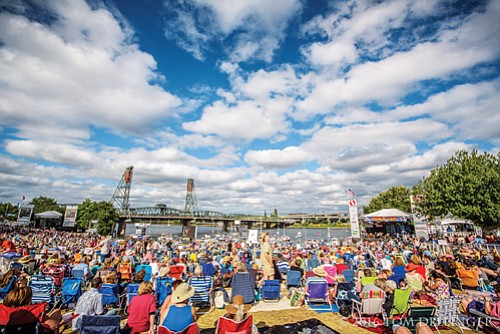 Ready to put on your boogie shoes? A Fourth of July tradition marks the summer holiday with the Waterfront Blues Festival, Wednesday, July 4 through Saturday, July 7 at Tom McCall Waterfront Park in downtown Portland.
Over a hundred acts representing American roots music at its best will be spread across four stages and four days. It's the largest blues festival west of the Mississippi and the second largest in the nation. Headliners include George Thorogood, Beth Hart, Ruthie Foster, The Mavericks, and Robert Randolph & the Family Band.
"The Waterfront Blues Festival has become the unofficial start of summer in Portland. It's just a great party," said Peter Dammann, festival artistic director. "But it's much more than that. It's an award-winning event that shows the world that this music is alive and well in the Northwest."
Once again, the festival is a fundraiser to fight food insecurity in our community, with a food drive and cash donations.
Tickets are on sale for the concert bargain of the summer: a four-day pass is just $40, which lets you come and go throughout the festival. Kids aged 12 and under are free (courtesy of Buick GMC of Beaverton).
There are two after-hours shows across the street at the Waterfront Downtown Marriott: "Let the Good Times Roll" with Marc Broussard and Nikki Hill on Friday, and "Everything We Do Gonna Be Funky" with The Motet and Polyrhythmics on Saturday.
There are also four "Blues Cruise" events with music, no host hors d'oeuvres, and a full bar on the beautiful Willamette River. Other highlights include swing and zydeco lessons and competitions on the region's largest outdoor dance floor, Saturday morning yoga presented by US Outdoor, the annual Harmonica Blow-off, the Journey to Memphis finals and more.
For ticket sales, schedules, artist bios and more information about the festival, visit the website at waterfrontbluesfest.com.