Deadly Force Reviewed
First shooting by PSU campus police kills man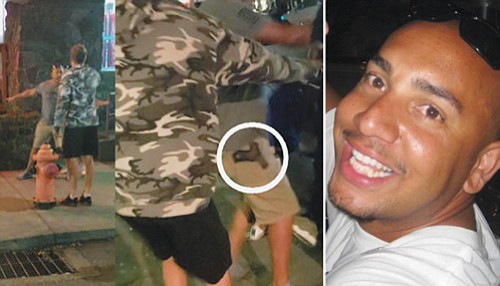 Hastings said he sadly was not surprised to learn about the circumstances of the shooting through the cell phone footage and news stories that have come out.
"It was exactly what we predicted would happen when we argued to board of trustees, PSU board of trustees, not to do this," Hastings told the Portland Observer.
Hastings previously testified to the board three times in opposition to arming police. He was joined by student group representatives from organizations like Students United for Nonviolence, the PSU Student Union and the PSU Black Student Union. A chorus of opposition eventually included the majority of PSU faculty and students, he said.
The debate at the time was heightened by the civil protests across the country about other officer-involved shootings, especially in the wake of the 2014 shooting of Michael Brown in Ferguson, Mo., and other instances of police killing unarmed black men.
Hastings said it was "disempowering" that the university moved forward with the armed police policy, despite PSU faculty and students "overwhelmingly" opposing it.
"For them to just ignore all of this and just go ahead and do it was very discouraging and now we see, damn it, the exact, horrifying, fatal consequence that we voiced our repeated, strident, concerns about," Hastings said.
A PSU spokesperson even unwittingly, ominously foreshadowed Friday's shooting in a statement he gave to the Portland Observer nearly four years ago.
At the time, Scott Gallagher, director of communications at PSU," presented the fictional scene of a potential fight outside the Cheerful Tortoise as an example of an incident that would benefit from fully accredited campus police officers being able to respond off campus, unlike PSU security which would have to wait for Portland Police before taking action.
After PSU began implementing an armed police force in July 2015, it hired three experienced officers of color to help bridge students' concerns that deputized officers would engage in racial profiling. Hastings, who has been working for PSU for nearly 18 years, said in the past, unarmed campus security successfully concluded conflicts without any injuries for the entirety of the university's history, even if suspects had weapons.
"I think this can be undone. I think it can be reversed. But it's going to take a lot of political will on campus, a lot more than it would've taken to stop it before it launched," he said.
An internal assessment and evaluation, as well as a review of PSU's policies and procedures is currently underway, according to a statement released by PSU President Rahmat Shoureshi issued Friday afternoon.
In addition, Portland Police Bureau is conducting its own investigation.
"There are a lot of questions and concerns about the shooting on campus—the first time there's been an officer-involved shooting on this campus," PSU spokesman Chris Broderick told the Portland Observer.