Federal ICE Building Reopens
Path cleared; protest camp continues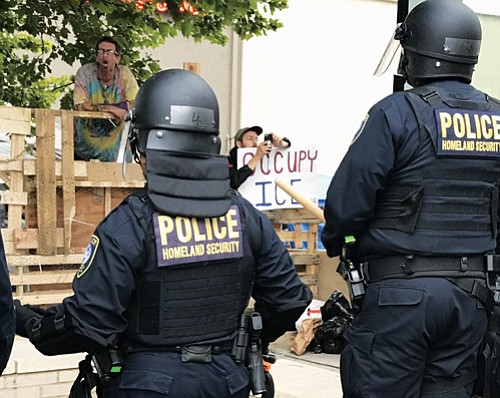 A federal immigration building in southwest Portland reopened Monday as a protest against President Trump's immigration polices continues outside the building.
The Immigration and Customs Enforcement (ICE) holding facility on Southwest Macadam Avenue had been closed since June 20, after the protest group "Occupy ICE PDX" set up a camp with the goal of shutting down the agency. The protests followed the separation of children from families trying to enter the U.S. at the Mexican border.
Federal police officers cleared a path to the building last Thursday and nine protestors blocking the entrance were arrested.
"Freedom of speech and peaceful assembly are sacred rights enjoyed by all Americans and the U.S. Attorney's Office is committed to protecting these rights. However, when individuals break the law by blocking employees and the public from accessing a federal facility, federal law enforcement will respond to restore normal business operations," said Billy J. Williams, U.S. Attorney for the District of Oregon.
A spokesman for the protest group said their demands still stand. They want Portland to withdraw from the Joint Terrorism Task Force; end all cooperation with the Department of Homeland Security; and fund an office of immigrant rights to provide legal help to immigrants swept up in the Trump Administration's "zero tolerance" immigration policies.