Memory Walks for Healing
OHSU study finds benefits for aging brains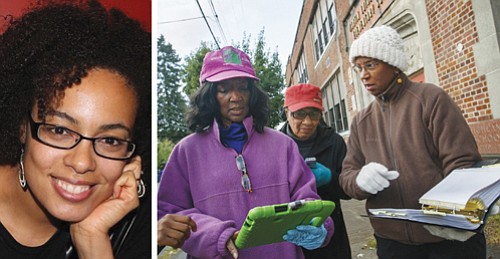 A unique program blending the physical activity of neighborhood walks with social engagement and reminiscing shows promise as a way of slowing mental decline, improving physical health, and even helping black residents and others process the grief associated with displacement from their homes, preliminary assessments and qualitative research shows.
The designer of the program is an African-American assistant professor of neurology at Oregon Health and Sciences University who spent some of her own upbringing in north and northeast Portland neighborhoods which have become much less diverse because of displacement from gentrification.
"My interest was in memory and how we remember our experiences, and to communicate moral values, what's important in life, through our stories," Raina Croff, told the Portland Observer. Her work involved 21 African Americans 55 or older who were long time residents. Divided into groups of three, they would walk three times a week over six months to pre-designated, one mile routes, many of which are now dramatically changed.
Guided by a smart tablet, a GPS-triggered "memory marker" that would pop up historic photos, news clippings or other artifacts from the past, the participants would reminisce about their connection to the place, until walking to another "memory marker" which prompted more discussion in 10 minute intervals.
Called Sharing History through Active Reminiscence and Photo imagery, or SHARP, the study focuses on brain health while also serving as a way of preserving the stories of community black elders — the participants' conversations were recorded and archived as oral histories.
Croff said that physical activity, social engagement, and reminiscencing— have all been proven individually to be good for brain health, "but we wanted to see what happens when we put these modes of healthy brain behaviors together," she said.
The participants included people who were cognitively healthy and those who have experienced mild cognitive impairment. The mild cognitive impairment group showed the most improvement, according to a post-study assessment, which Croff said was "promising."
For older African-Americans, brain healthy activities are especially important, Croff said, because members of this group are statistically twice as likely to develop Alzheimer's disease and other mental health dementias as the general white population.
Disproportionate rates of chronic conditions like obesity, diabetes, and hypertension probably contribute to the higher impacts, she said, as well as cultural factors like unhealthy eating and inaccessibility to quality health information.
Many African Americans believe memory loss that is severe enough to impair daily functioning is natural to aging, even though it's not, she added.
The results of the study are still fresh, having just been wrapped up in May. But so far, the benefits to overall mental health seem evident, though Croff cautions that she's unsure if its due directly to participants' behavior during the study or changes in behavior overall as a result of having gone through it, such as being inspired to walk, socialize, or reminisce more in their day-to-day life.
For 86 percent of the participants who completed the study, half of them had improved cognitive assessment scores at the end. In addition, 77 percent had decreased blood pressure, half experienced lost weight, and all of them reported improved mood since starting the walks, Croff said.
Qualitative research, like focus group evaluations and interviews, revealed that many of the participants were engaged and dropout rates from the study were low due to the sense of purpose participants gained from activities that recorded Portland's African American history.
"What we've heard is that there's a real healing aspect -- healing from the trauma of gentrification," Croff said.
She said the participants also warmed up to the ethnically diverse college students who participated in the study, which Croff said ranged from undergrad to post grad researchers from Lewis and Clark College and Pacific University.
Croff was born in Portland to a black father and white mother. She said her mother saw to it that she was taught black history and would check up to see what she was learning in school. After high school she went on to study the African Diaspora Cultures—which describes the mass dispersion of people of African descent during the Transatlantic Slave Trades from the 1500s to the 1800s—as an archaeologist in Senegal and Guadaloupe, as well as African American burial grounds in the U.S.
After taking a job as a qualitative researcher at OHSU, Croff conceived of the SHARP study with the support of a trusted mentor who told her "why not?"
"That gave me the confidence that there is a place for an anthropologist in neuroscience. There is a place for oral history. If it's aligned with participants' cultural worldview and their passion, which is community, then there's a way," she said.
Croff hopes the program, which she says is highly adaptable, can eventually be used in other cities impacted by similar issues.
"Gentrification is happening all over the U.S. and wouldn't this be a great way…to have those people go through their historical archives, just the way we did, and form themed routes and images and questions and be able to do the study in their cities."
The SHARP study was supported by funding from the Alzheimer's Association and performed out of OHSU's Layton Aging & Alzheimer's Disease Center, one of the National Institute of Health's top ranked facilities of such research. The original pilot program, which launched in 2016, was supported by the U.S. Centers for Disease Control and Prevention.