Memory Walks for Healing
OHSU study finds benefits for aging brains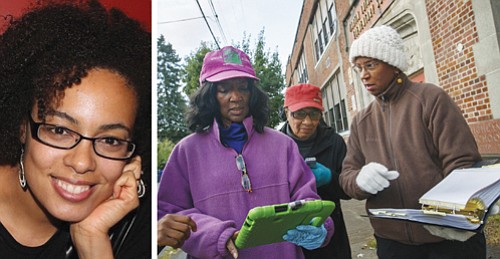 Qualitative research, like focus group evaluations and interviews, revealed that many of the participants were engaged and dropout rates from the study were low due to the sense of purpose participants gained from activities that recorded Portland's African American history.
"What we've heard is that there's a real healing aspect -- healing from the trauma of gentrification," Croff said.
She said the participants also warmed up to the ethnically diverse college students who participated in the study, which Croff said ranged from undergrad to post grad researchers from Lewis and Clark College and Pacific University.
Croff was born in Portland to a black father and white mother. She said her mother saw to it that she was taught black history and would check up to see what she was learning in school. After high school she went on to study the African Diaspora Cultures—which describes the mass dispersion of people of African descent during the Transatlantic Slave Trades from the 1500s to the 1800s—as an archaeologist in Senegal and Guadaloupe, as well as African American burial grounds in the U.S.
After taking a job as a qualitative researcher at OHSU, Croff conceived of the SHARP study with the support of a trusted mentor who told her "why not?"
"That gave me the confidence that there is a place for an anthropologist in neuroscience. There is a place for oral history. If it's aligned with participants' cultural worldview and their passion, which is community, then there's a way," she said.
Croff hopes the program, which she says is highly adaptable, can eventually be used in other cities impacted by similar issues.
"Gentrification is happening all over the U.S. and wouldn't this be a great way…to have those people go through their historical archives, just the way we did, and form themed routes and images and questions and be able to do the study in their cities."
The SHARP study was supported by funding from the Alzheimer's Association and performed out of OHSU's Layton Aging & Alzheimer's Disease Center, one of the National Institute of Health's top ranked facilities of such research. The original pilot program, which launched in 2016, was supported by the U.S. Centers for Disease Control and Prevention.