Creating a Mood with Night Lights
Kay Newell The Light Bulb Lady | 7/11/2018, 6 a.m.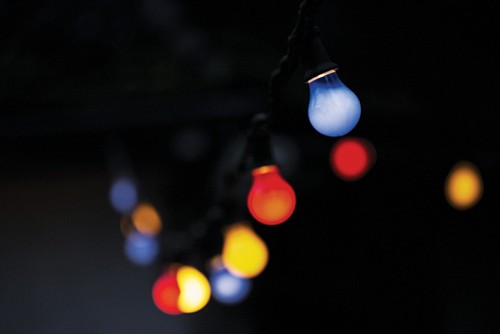 The moon sets the mood for a great evening. To create that same mood for your yard, a patio party or a quiet evening chat, there are lights you can chose that create an evening paradise.
A yellow or orange light creates a golden glow that not only feels good but helps reduce visits from many bugs. A blue light has the feel of airport lights. Each color feels different and a mix of colors is delightful.
A colored light on the porch can be a signature color for your home, and at the same time a colored bulb will not startle you into full wakefulness when you arrive home for the evening.
A bright light shining in a bedroom window can keep sleep at bay. Color bulbs help reduce the glare and will still supply light for safety. If you require a brighter light for security, mask the fixture lens to keep the lights from neighbors' windows.
Make your summer nights sweet with mood lights around the patio, music in the background, and the laughter of friends. These are the ingredients of good memories. Contrast that with bright white lights and blaring music, the ingredients for neighborhood discord and unhappy wild life.
Visit Sunlan Lighting at 3901 N. Mississippi Ave. where we stock many shapes of bulbs in many colors and a large variety of string lights year around.