Low Income Fares Begin
Adults who qualify pay half the cost
7/11/2018, 6 a.m.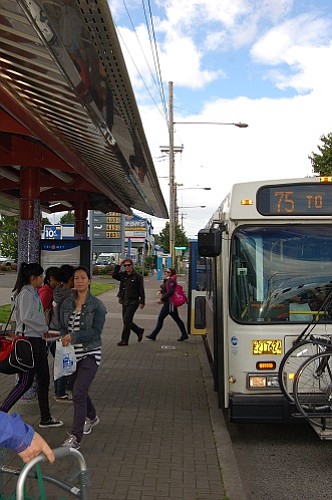 Some good news on affordability for public transit this month as new low-income fares went into effect for qualified adult riders on TriMet and new governmental agreements mean many Portland area high school students will again ride free when classes start back in the fall.
TriMet officially began its low-income fare program on July 2, allowing adults who qualify to pay half the cost of a single ride or day pass, or to purchase a monthly pass at a 72 percent discount, the same as it now offers on "Honored Citizen" fares.
Reducing costs for low-income riders removes a barrier to using transit. The financial help is one of TriMet's goals for better access to the public system and a top priority by rider advocates like Opal Environmental Justice Oregon, a group that's advocated for a low-income fare program.
"Adding this new eligibility to our Honored Citizen program removes yet another barrier to using transit," TriMet General Manager Doug Kelsey said, announcing the low-income fare last month. "When that happens, doors of opportunity open. Whether it's getting to a new job or a child's daycare, making transit accessible and affordable for those struggling financially make a difference in the communities we serve."
The transit agency began testing reduced fares for low-income adults in June. The program expands eligibility to TriMet's "Honored Citizen" fare, the term the agency uses for providing reduced fares for people over 65 and for people with mental and physical disabilities.
Now those earning up to 200 percent of the federal poverty level are eligible for the discount, reducing a single trip from $2.50 to $1.25 or a monthly pass from $100 to $28. That means individuals who make $24,276 or less annually can qualify (an amount just below the $24,960 a full-time minimum wage worker in metropolitan Portland would make annually) or $50,198 or less for a family of four.
The program was made possible when the 2017 Oregon Legislature passed and Gov. Kate Brown signed into law a bill which established a dedicated and stable source of funding for TriMet to offer reduced fares for low-income adult riders.
Previously, TriMet had a fare assistance relief program that provided grants and discounts to nonprofit organizations that assisted those who are struggling financially.
TriMet hopes to reach enough people to register 15,000 participants in the first year and 45,000 within the first three years.
Once eligibility is certified, participants present documentation at the TriMet Ticket office at Pioneer Courthouse Square, downtown, where they will be issued a personalized Hop Fastpass fare card to which funds can be loaded immediately and used for fares on buses, Max light rail and trains. A $3 fee associated with the issuing of the re-loadable Hop Card is waived for the first card issued to an individual enrolling.
For high school students, the free fare is offered where no yellow bus service is provided and is made possible by financial support from TriMet, the city of Portland, and the Portland, David Douglas, and Parkrose school districts.
"This agreement means that for the coming year these students will have greater access to jobs, training opportunities, classes at Portland Community or Mt. Hood Community colleges, libraries and other destinations that support their education, Mayor Ted Wheeler said.
A working group consisting of City of Portland and TriMet will convene to determine long-term strategies for providing transit passes to other low-income students in the Portland-area and could include formulating how funds are used from a new employee payroll tax that was signed into law last summer.
Part of HB2017, or the Keep Oregon Moving Law, requires one percent of the revenue from the tax to go toward high school student transportation.
For more information on how to sign up for the new low income fares, visit trimet.org/lowincome.