Incredible Survivor
Injured woman found alive after crash
7/17/2018, 4:58 p.m.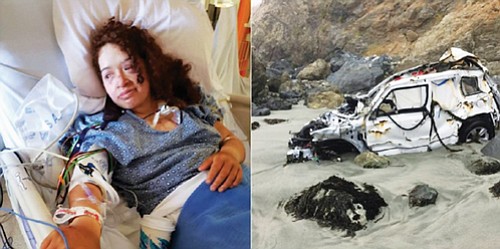 A Portland woman who went missing in California and survived for nearly a week after her car plummeted over a cliff onto a Pacific shore beach, and was discovered by two hikers Friday, recalled the event from her hospital bed Sunday.
Angela Hernandez, who veered off the road to avoid hitting a small animal in coastal California, had crashed her Jeep Liberty at the bottom of a 200-foot bluff on July 6.
The hikers, Chelsea and Chad Moore, first discovered and gathered some of her things—such as a license plate—to bring to authorities while hiking near Big Sur. But about 30 minutes later, they discovered the woman alive and got her help. One called 911 while the other stayed with her. She was eventually airlifted to a hospital after emergency responders used climbing gear to reach her, authorities said.
Hernandez recalled the ordeal in harrowing detail in a Facebook post two days after her rescue.
"The only thing I really remember after [the crash] was waking up. I was still in my car and I could feel water rising over my knees. My head hurt and when I touched it, I found blood on my hands," she said.
Though the 23-year-old sustained several serious injuries, like a brain hemorrhage, two broken collar bones, four broken ribs, and a collapsed lung, she was able to break out her car by use of a multi-tool and patrol the beach for rescuers in the coming days.
"I found a high spot I was able to climb up to and found myself there almost every day. I could see cars driving across the cliff and felt like if I could yell just loud enough, that one could hear or see me. That's all it would take to make it back to my family." Hernandez said.
She also described using a hose that had come off her vehicle to collect water from a patch of moss to survive.

Hernandez was reunited with her family at the hospital over the weekend.
"I don't know, you guys, life is incredible," she said.