Team Beats Back Jail Door
Works with drug addicted, homeless to change outcomes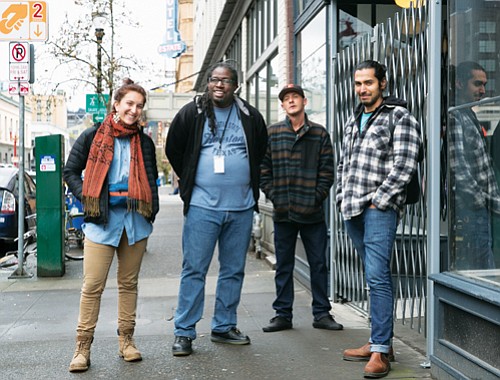 A pilot project shows promise as a way of helping people struggling with serious drug addictions, many of whom living on the street, get connected with social services and treatment, instead of continuing to cycle through the criminal justice system.
In a city where one in every two arrests made by the Portland Police Bureau last year was of a homeless person, as the Oregonian recently reported, a recent expansion of the program could help ameliorate the issues that plague the un-housed.
The Law Enforcement Assisted Diversion or LEAD program is a county-funded, pre-booking jail diversion initiative that allows police to divert someone facing a low-level drug offense to case managers, who curate individualized treatments, and keep them away from jail or prosecution.
For about the past year and a half, the non-profit organization Central City Concern has contracted with Multnomah County to provide the services to said would-be drug offenders. Originally encompassing clientele from downtown Portland and the Lloyd District, the program expanded in May to encompass central southeast clients, too.
The coordinated effort between law enforcement agencies, service providers, community organizations and elected officials is aimed to reduce crime and the harm individuals struggling with addiction can cause themselves and their community. The majority of the program's clients are those experiencing homelessness, Karen Kern, who oversees the LEAD program at Central City Concern, told the Portland Observer.
She said she's received supportive responses from the community with what the program has been able to achieve so far.
"We've been able to show that we actually have some positive outcomes. [We've helped] people who've been chronically homeless and using substances [...] that are now housed and sober and working. Even the officers are like 'wow I can't believe this; it's like a complete transformation for this person,'" Kern said.
Since its launch in February 2017, 99 people have enrolled in LEAD, 76 remain active in the program, and over 1,000 documented needs from participants have been met —like seeking medical attention for serious health issues, receiving basic amenities, and being set on a path to obtain housing or a job.
Unlike other court-mandated programs, specialty courts, or probation requirements, how clients receive their unmet needs is self-directed by them, with the assistance and support of Central City Concern case managers, Kern said.

"No one is telling them you have to do this, We're just asking them what do you want to do. And just from that frame, you actually end up going further," Kern added.
The way it works is, when a potential drug offender is apprehended by a police officer, that officer may refer them to LEAD and, if they accept, an arrest for possession of a controlled substance is diverted and they won't be booked in a precinct, jailed, or taken to court, Kern said.
However, there are several restrictions on who the program can apply to. For example, if the person in question has more than 5 grams of heroin, or 10 grams or more of cocaine or methamphetamine, they're ineligible. Also having an active extraditable warrant or a restraining order against another client in the program disqualifies them, according to a county document outlying the criteria.