Team Beats Back Jail Door
Works with drug addicted, homeless to change outcomes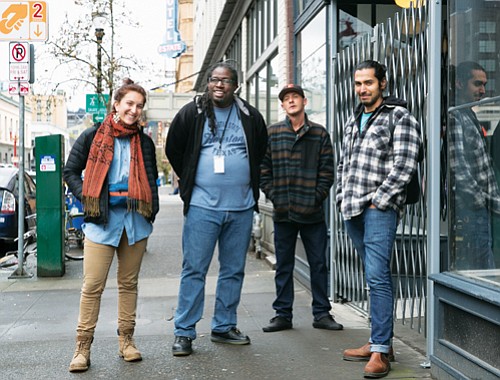 A pilot project shows promise as a way of helping people struggling with serious drug addictions, many of whom living on the street, get connected with social services and treatment, instead of continuing to cycle through the criminal justice system.
In a city where one in every two arrests made by the Portland Police Bureau last year was of a homeless person, as the Oregonian recently reported, a recent expansion of the program could help ameliorate the issues that plague the un-housed.
The Law Enforcement Assisted Diversion or LEAD program is a county-funded, pre-booking jail diversion initiative that allows police to divert someone facing a low-level drug offense to case managers, who curate individualized treatments, and keep them away from jail or prosecution.
For about the past year and a half, the non-profit organization Central City Concern has contracted with Multnomah County to provide the services to said would-be drug offenders. Originally encompassing clientele from downtown Portland and the Lloyd District, the program expanded in May to encompass central southeast clients, too.
The coordinated effort between law enforcement agencies, service providers, community organizations and elected officials is aimed to reduce crime and the harm individuals struggling with addiction can cause themselves and their community. The majority of the program's clients are those experiencing homelessness, Karen Kern, who oversees the LEAD program at Central City Concern, told the Portland Observer.
She said she's received supportive responses from the community with what the program has been able to achieve so far.
"We've been able to show that we actually have some positive outcomes. [We've helped] people who've been chronically homeless and using substances [...] that are now housed and sober and working. Even the officers are like 'wow I can't believe this; it's like a complete transformation for this person,'" Kern said.
Since its launch in February 2017, 99 people have enrolled in LEAD, 76 remain active in the program, and over 1,000 documented needs from participants have been met —like seeking medical attention for serious health issues, receiving basic amenities, and being set on a path to obtain housing or a job.
Unlike other court-mandated programs, specialty courts, or probation requirements, how clients receive their unmet needs is self-directed by them, with the assistance and support of Central City Concern case managers, Kern said.

"No one is telling them you have to do this, We're just asking them what do you want to do. And just from that frame, you actually end up going further," Kern added.
The way it works is, when a potential drug offender is apprehended by a police officer, that officer may refer them to LEAD and, if they accept, an arrest for possession of a controlled substance is diverted and they won't be booked in a precinct, jailed, or taken to court, Kern said.
However, there are several restrictions on who the program can apply to. For example, if the person in question has more than 5 grams of heroin, or 10 grams or more of cocaine or methamphetamine, they're ineligible. Also having an active extraditable warrant or a restraining order against another client in the program disqualifies them, according to a county document outlying the criteria.

And it can only apply to certain parts of the city, like the Lloyd District, Old Town/China Town, and most recently inner southeast Portland, in a catchment area that stretches from the Willamette on the west to Southeast 12th Avenue on the east; and between I-84 on the north and Southeast Powell on the south.

Once a client is accepted, case managers assess them to figure out what their needs are. They then regularly check in on them, often where they sleep on the street, and build a relationship to try and help the client fulfill those needs.
"We're an outreach program so the case managers are mostly working in the community and not so much in an office...as that relationship develops, what ends up happening is there's a trust there," said Kern, who has worked for Central City Concern for over two years.
What might start as requests for blankets and food becomes a journey to work on long term, serious issues like mental health, substance abuse, and housing, Kern said. Medical or mental health emergencies that might have culminated in a trip to the E.R. or jail can get mitigated by receiving a primary care or mental health provider and scheduling regular check-ups for ongoing conditions, she added.
LEAD Case manager Hubert Matthews told the Portland Observer that his personal connection to addiction is a motivating factor for doing the work he does.
"Due to the fact that I am a recovering addict, my experience as a case manager has been very rewarding. I have been able to serve a population that I was a part of for many years," he said.
Matthews said assisting people struggling with chronic drug addiction is very complex because they ultimately won't stop using until they are ready, which is why he advocates for a set of strategies aimed at reducing negative consequences associated with drug use, known as harm reduction, instead of a punitive approach.
He added that meeting people where they are is important to make social services as accessible as possible to drug addicts so their needs can be more easily met.
"It has been proven that putting money into jailing addicts does not help meet these needs, and so I think we need to have a better infrastructure to support social services. Addiction touches everyone's lives one way or another," Matthews said.
The LEAD program's harm reduction model is based on the premise that drug addiction itself is a medical disease, known as substance use disorder, not a moral shortcoming.
It's a point of view that Kern said is in line with many civic leaders, including Multnomah County District Attorney Rod Underhill, who has lauded County Commission Chair Deborah Kafoury for championing the funding of the initiative. He also stated the recent expansion of the program into southeast Portland is "critically important to our community."
"It shows our commitment to embracing a harm reduction model for people who are struggling with addiction or mental health...with that vision, we are starting to move away from the punitive and sanction-based model of prosecution and are continuing focus on the individual," Underhill said.
Kafoury added that she's also encouraged by the progress being made by the program.
"We need strategies that keep the public safe and hold people accountable, but also gives them an opportunity to recover and change for the better. Programs like LEAD demonstrate our commitment to expanding those opportunities," Kafoury said.
As to whether the LEAD program will have economic benefits to taxpayers by diverting substance abusers from excess use of expensive public services like emergency room visits, or being jailed, Abbey Stamp, the Executive Director of Multnomah County's Local Public Safety Coordinating Council, which oversees LEAD, said she is hopeful it will, but they've not accumulated enough data to determine one way or another.
"We have an evaluation plan we will pursue after another year or so when enough clients have enrolled and engaged…it will take some time, especially because LEAD clientele have many complex needs," Stamp said.