Inspired by Science
Young inventor competes for top prize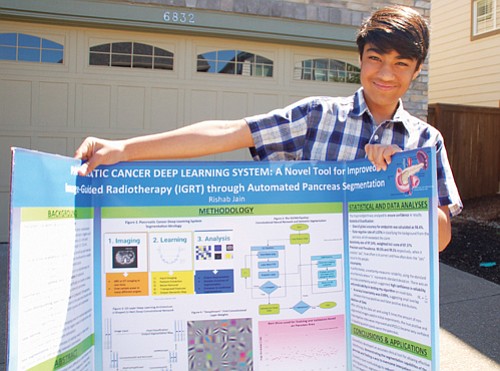 A local middle school student is poised to fight for the title of "America's Top Young Scientist" for his innovative system of using artificial intelligence software to potentially improve the effectiveness of pancreatic cancer treatment.
Rishab Jain, a soon-to-be eighth grader at Stoller Middle School in Beaverton, was one of 10 finalists chosen throughout the nation for 3M and Discovery Education's Young Scientist Challenge, it was announced last month. The annual competition challenges students grades 5-8 across the nation to use scientific thinking to create innovations that improve their communities locally and abroad. In October, he and nine others will compete for a $25,000 grand prize in St. Paul, Minn. He's also mentoring with a 3M scientist over the summer to help bring his vision to life.
The competition involved contestants submitting a YouTube video of their proposals, which Jain said immediately drew him in, since making technology-based videos for the web is one of his many hobbies.

Last summer Jain familiarized himself with artificial intelligence programs like Python and MATLAB. When he learned about the low survival rate of pancreatic cancer patients over that same summer, he wondered if there was a way to combine the two interests.
"Currently to treat the disease, doctors use MRI-guided radiotherapy. This is where radiation is directly targeted onto a tumor to help reduce the size and kill it off," Jain explained.
But due to differences in patients' body structures, and bodily movements like breathing, the pancreas can move mid-treatment.
"And then the radiation can have negative effects on the body. So that's a major problem. I wanted to try to solve that," he added.
If this new tool is used, the radio therapy can follow the pancreas as it moves, in real time. Not only could this make the treatment of the cancer more effective, it also avoids accidentally pumping healthy organs with radiation, which should increase a patient's overall chances of surviving.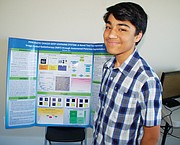 Jain's mother, Manisha Jain, who is a realtor and originally from India, said she's excited to see her son interested in a field that not only helps him, through learning, but also could benefit a lot of people all over the globe who suffer the disease.
"That's always something that we talked to kids [about]…do something that can impact community. And that's what Rishab is probably trying to achieve. We're very excited and proud of him," she said.
Besides trying to improve cancer treatment effectiveness, the young inventor is pretty much just a normal kid that enjoys playing with Rubick's Cubes, swimming, reading, collecting Boy Scout merit badges, and going to summer camp.
He credits other family members for getting him interested in scientific fields growing up.
"I've always been inspired by my cousin and my brother exploring the medical field [a spinal surgeon and med student, respectively]. And on the other hand, my father is a hardware engineer at Intel. I got to do a lot of programming experiments with him, so that's also really interesting. It's really cool to see both of those fields come together, the engineering and medical fields," Jain said.
He was also inspired by Steve Jobs, the former Apple CEO and computer innovator who died from pancreatic cancer in 2011 at the age of 56.
Over the summer, Jain will be working with another mentor, 3M scientist Dr. Döne Demirgöz, over Skype to further develop his technology before meeting her, and the other nine contestants, in real life in St. Paul, Minnesota in October where they'll compete for the grand prize of $25,000 and the title of "America's Top Young Scientist."
When asked what he would do with the money should he win, Jain said: "I would definitely split up the money. I would spend a majority of it on my pancreatic cancer research and the rest of it I would probably keep...save it or keep it aside for college."