Racist Writings Derail Court Pick
Ryan Bounds nomination pulled after black senator objects
A controversial nominee to the U.S. Court of Appeals from Oregon had his nomination derailed in the Senate Thursday after the only Republican black member of the Senate made clear he couldn't vote for him.
Ryan Bounds, 44, an assistant U.S. Attorney in Oregon, had been under fire for making racist, sexist and homophobic attacks on multiculturalism as a student at Stanford back in his early 20s. But his nomination was expected to pass with Republican votes. Just a day earlier, a vote to end debate on the nomination passed 50-49 with just GOP votes.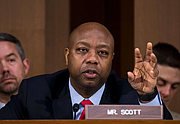 But Thursdays afternoon, CNN, citing multiple sources, said that South Carolina Republican Sen. Tim Scott indicated during a Senate lunch that he couldn't vote for Bounds. The concerns revolved around the content of his writings while at Stanford and the fact that Bounds did not disclose the writings to a bipartisan committee in Oregon that had recommended him for the Ninth Circuit.
One source described that there was then a "jail break" of Republican senators with concerns, and once it was clear the vote was going to go down, several others senators also said they didn't want any part of voting for him, CNN reported.
Majority Leader Mitch McConnell pulled the confirmation vote just minutes before it was set to begin. Senate Judiciary Chairman Chuck Grassley, who supported Bounds, said the president has also withdrawn the nomination.
Bounds earlier had apologized for the controversial writings, saying they showed insensitivity to racial minorities, among other issues, describing them as "poorly worded and ill-conceived pronouncements of a youth who had much to learn about the world."
Bounds was selected by President Trump for a lifetime appointment to the court, He was born in Umatilla, Ore. and raised in nearby Hermiston. He was a member of the conservative Federalist Society.
Oregon Sens. Ron Wyden and Jeff Merkley, both Democrats, had objected to the nomination and protested his confirmation in speeches on the Senate floor.
Nominees usually cannot move forward over the objection of home state senators but this year McConnell and Grassley ignored that tradition.
After Bounds' defeat, Wyden and Merkley said they would be interested in working with Republicans to find a new nominee and will consult with a state selection committee which will forward names to the White House.
Bounds issued a statement saying he was proud to have been nominated and plans to continue in his role as a federal prosecutor.