Final offer for school bus drivers falls short
Workers say stike is possible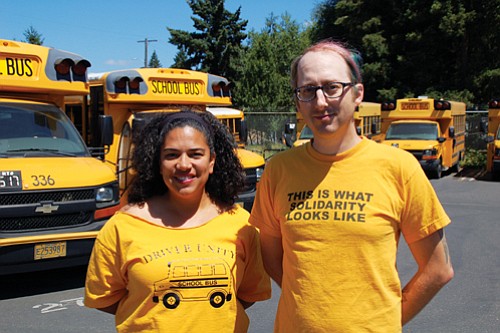 Portland Public Schools special education bus drivers may go on strike if they don't accept the latest offer from Oregon's largest school district to implement their final offer for a pay raise, end the negotiations, and finally settle on a long overdue employment contract.
PPS announced that it will implement its offering of wage increases as part of Tuesday's school board meeting; an amount that negotiators of the contract and other drivers have been saying is unacceptable since it was first proposed in May. The drivers' union will vote in two weeks whether to accept the district's offer or go on strike.
A proposed resolution released by the district Friday ahead of the school board meeting, calls for a special education bus drivers' starting wage to increase from $16.25 per hour to $17.96 per hour starting July 25 — but that's still $1.04 lower than what the drivers asked for.
"The positive is this was not on the [school board] agenda before. The downside is, it's still below what others are being paid," driver and union organizer Beth Blumklotz told the Portland Observer.
Organizers have frequently referenced a statistic from the National Low Income Housing Coalition that a Portlander needs to make more than $23 per hour to afford a two bedroom rental. The drivers are asking for a $19 per hour starting wage, with yearly step increases.
The drivers originally asked for over $21 per hour, which was parallel to what other PPS drivers, who transport things like warehousing equipment, landscaping tools, and food items, made. Unlike those drivers, the special ed bus drivers must get trained in emergency response techniques for children.
Since their previous contract expired in June of 2017, many drivers have held protests, school board testimonials, and other pleas for receiving a livable wage as mediated negotiations between the two sides took place.
Union representative and driver Jimmy Appelhanz laid out some of the issues during a school board meeting last week, telling board members that the district has, through either indifference or incompetence, failed to meet the union's reasonable demands for an equitable contract.
"A strike is an action of last resort. But after a year of negotiation and mediation this is a step we are prepared to take," Appelhanz said. "The lack of respect being shown to your employees is galling and our patience has long since wore thin."
The union is within its right to strike, according to Oregon labor laws and the union's own regulations.
Back in late April, Local 757 declared an impasse after mediated negotiations failed to appease all parties. Around the same time, the union also asked PPS to enter arbitration, which the district declined. Merely asking to arbitrate fulfilled a needed step before the right to strike is allowed, according to union rules.
In early May, the district gave their final offer of $17.96 starting pay, which they're now implementing, and within their right to do so. Protesters around that time were vocal then that $17.96 would be an inadequate pay raise.