Beating the Heat
Blast of summer to persist
7/25/2018, 2:24 p.m.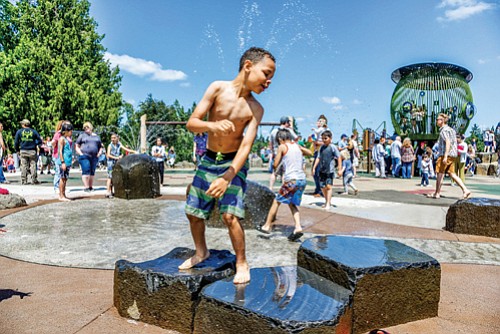 Temperatures started out blistering hot this week with an excessive heat watch issued by the National Weather Service for the Portland area. Highs were expected to remain in the mid 90s Thursday and Friday and near 100 again by the weekend.
When it's hot, it's important to stay cool and hydrated.
"We urge people to limit their time outdoors if possible, wear loose-fitting and lightweight clothing, drink plenty of water, and stay in air-conditioning as much they can," said Washington County Deputy Health Officer Dr. Christina Baumann.
Never leave pets or children alone in a car on a hot day. If you see a child or pet in a car, call police.
Multnomah County opened its East County building on Northeast Eighth Street in Gresham early in the week to serve as a cooling center for the public. For Information about additional locations for cooling, like local libraries, and for transportation needs during the heat wave, call 2-1-1.
Portland Parks & Recreation also invites you to find some relief from the sun by enjoying its fountains and neighborhood park splash pads located across the city, as well as swimming pools. Poet's Beach, Portland's Willamette riverfront swimming beach, is now open as well!