Police Sweep Underway at Occupy ICE Camp
No reported arrests
7/25/2018, 11:18 a.m.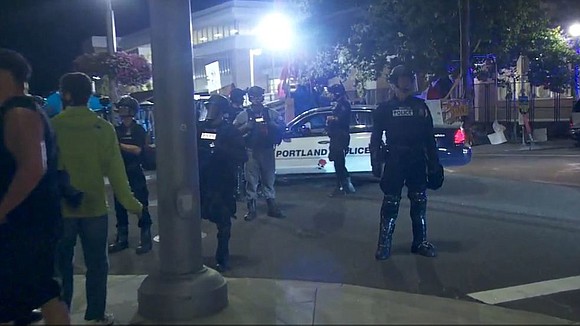 The city's clean-up of the Occupy ICE protest encampment they've held for more than a month on the street adjacent to the Federal Immigration and Customs Enforcement (ICE) building on Southwest Macadam Avenue has gone underway early this morning, with few reported conflicts, police officials said, though there will be traffic delays expected in the area until late afternoon.
At 4:15am this morning, the sweeps began with some 45 Portland police officers assisting, and has so far not resulted in arrests, citations, or injuries, according to a Portland Bureau press release. They added that an officer reported pushing using a baton during the cleanup and that the use of force will be reviewed.
Mayor Wheeler asked protestors to "peacefully disengage" Monday before issuing a formal eviction notice, saying the camps built on Trimet, city, and private property, some of which had wooden structures built upon them, were "not sustainable."
Police Chief Danielle Outlaw also stated that the police had determined the conditions of the camp to pose "livability and safety concerns for the community and people staying in the camp" and that she was "pleased" with the relatively smooth clean-up effort this morning.
Wheeler cited complaints of street blockage from local community members, as well as rising tensions from a recent confrontation between right-wing Patriot Prayer demonstrators and Occupy ICE protestors on Friday, as the main causes for disassembling the camp.
A faction within the ICE protestors, called "Abolish ICE," had already begun to voluntarily leave the camp before the Mayor's call for the remainder to also leave.
"The timing is right here," Wheeler said.
The sweeping protest camp erupted five weeks ago over President Trump's "zero tolerance" immigration policies. The mayor initially supported protesters and called for opposition to the Trump Administration's separation of immigrant children from their parents at the U.S.-Mexico border.
The demonstration resulted in the temporary closure of the ICE office in the first week of the demonstration, until federal agents forced protestors away from the building entry.
Road closures near the clean-up site on SW Bancroft St and Southwest Moody Ave are expected to continue until late afternoon and police warn motorists to use extreme caution should they travel through the area.