New Films and World Insights
Reviews from the Seattle International Film Festival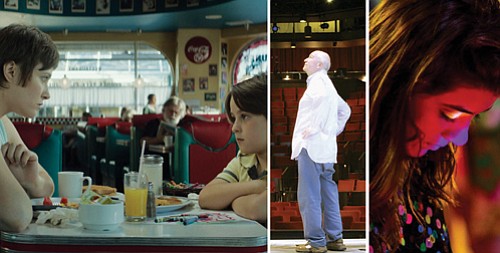 I've always wanted to take in the Seattle International Film Festival (SIFF), and this year I'm in the middle of a first-time five-day stint. Like the Portland International Film Festival in February, SIFF is a great opportunity to catch a huge variety of films on the big screen from all over the world, some of which may never have a big screen commercial release in Portland, though many become available on other platforms. For the next couple of weeks, I'll offer a rundown of what I saw, including some films I especially recommend watching for in theaters or online.
My favorite over the first three days was "Every Act of Life," an appreciation of playwright Terrence McNally, who remains a vital presence in the New York theater scene. Now in his 70s, McNally first came to New York in 1956 to attend Columbia University after rough beginnings in Corpus Christi, Texas. He suffered from the alcoholism of his parents and violence from his father; they little understood their unusually imaginative and tender-hearted gay son, but their yearly sojourns to New York to see Broadway shows helped to plant the seed in him of love for the theater, which then sustained him and helped him to find his voice even in the face of occasional disappointment and failure. This well-crafted film features interviews with major figures in the theater world, including F. Murray Abraham, Angela Lansbury, Christine Baranski, Tyne Daly, Edie Falco, Nathan Lane, Audra MacDonald, and Joe Mantello, many of whom have stories attributing their success to his willingness to take a chance on them and who speak of his writing with obviously heartfelt admiration. Through their observations and appreciation of his extensive body of work (including "Frankie and Johnny in the Clair de Lune," "Master Class," "Love! Valour! Compassion!," "Mothers and Sons," and "Ragtime"), we see how McNally was often far ahead of its time, and come to understand a thread of love and generosity that runs through his most beloved plays. It's a celebration of an influential life and of the delicious and risky delights of life in the world of the theater.
"A Rough Draft" is a trippy sci-fi/action film adaptation of a novel by Sergei Lukyanenko, who also wrote "Night Watch." That novel was also made into a film which I loved, and this one reminded me of that 2004 film in all the best ways; it creates a whole elaborate and complex world that exists alongside what most people can see in our world, where supernatural powers and long-waged conflicts heighten the stakes and excitement of daily life. In this story, a young gaming program designer wakes to find that his life has been suddenly erased; everyone has forgotten him and someone else is living in his house. As he struggles for answers, he eventually encounters a mysterious woman who informs him that he has been conscripted into a job as a gatekeeper between multiple worlds, in part because of his potential to powerfully move between them. As continual surprises unfold, he finds both limits and possibilities that surprise him. As with "Night Watch," the inventiveness and creativity here provides a riveting window into a distinctly Russian imagination, including a view of Russian history and present.