Senator Denied Look at Immigration Facilities
Turned back from separated immigrant children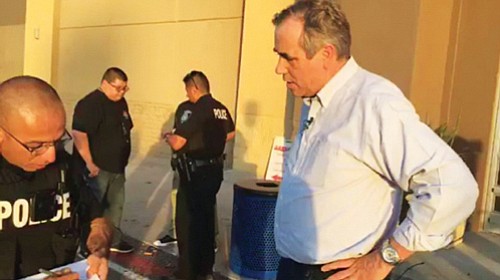 U.S. Sen. Jeff Merkley, D-Ore., tried to visit an immigration detention facility in Texas Sunday to check on immigrant children held by federal authorities from their parents, but was denied access and had police called to stop him.
The action prompted questions about what's going on behind closed doors at some of the country's detention facilities amid concerns about the separation of children from their parents who have attempted to cross the border illegally.
Merkley posted the video live on his Facebook page as he attempted to enter the former Walmart in Brownsville, Texas, which has garnered nearly 2 million views by midday Tuesday. The senator made the visit after his office contacted the facility, run by a non-profit, and they declined to schedule a tour without several weeks advance notice.
"I think it's unacceptable that a member of Congress is not being admitted to see what is happening to children whose families are applying for asylum. I decided to come out here, go up to the door and ask to be let in," he said in the video.
The attempted visit comes one month after Attorney General Jeff Sessions announced a new policy in which the U.S. would begin prosecuting anyone to enter the country illegally, including refugees seeking protection. The policy separates children from their parents at the border and places them in separate detention centers, rather than in family facilities where they can remain with their parents, an email from Merkely stated.
It's been reported that hundreds of immigrant children have already been separated from their families since the policy took effect.
At another center for processing immigrants run by the Department of Homeland Security in Texas, Merkley was able to access the facility earlier on Sunday and saw "children in cages," his communications director Ray Zaccaro said.
White House officials have accused Merkley of "smearing" law enforcement, grandstanding, and allowing criminals to enter to the United States by not backing Donald Trump's "zero tolerance" agenda.
The senator took to Twitter to respond.
"They continue to hide what's happening in the detention centers. Americans deserve to know how innocent children are being traumatized in their names and w/taxpayer dollars," Merkley said.
Merkley's spat with the administration could put the spotlight on him as a potential presidential candidate. Many have speculated he may run after he met with New Hampshire Democratic Party's executive committee in March.