Unlawfully Held
Mass detainment during protest not justified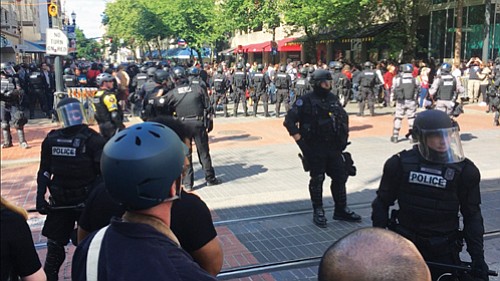 A controversial mass detainment by Portland police of nearly 400 anti-Trump protestors at a demonstration in downtown Portland last year is now being hit on three sides for not being legally justified.
The American Civil Liberties Union, which earlier sued the Portland Police Bureau, the City of Portland and Mayor Ted Wheeler over the June 4, 2017 incident, won a court decision last week that said their lawsuit case can proceed as a federal class action, meaning anyone who was swept up in the crowd-control can now join the lawsuit.
In addition, a Portland police oversight office determined in a report issued last week that police had neither the legal justification nor a Police Bureau policy to support its decision to use the so-called "Kettle" practice to surround people and hold them as their IDs are seized and their photos taken.
The Police Bureau, in response to the city's Independent Police Review report, said it recognized the erroneous procedures that it took in regard to the mass detention, or lack thereof, and that additional police training needs to be taken to correct it. Police said they did corral protestors, take their pictures, and ask for ID, but only after people ignored repeated orders to disperse or to investigate disorderly conduct.
The IPR report came the same day as Oregon U.S. Magistrate Judge Paul Papak deemed the ACLU lawsuit could be joined by others in class action.
"We expected and appreciate the court's decision," ACLU of Oregon Legal Director Mat dos Santos said in a statement. "We just climbed one step closer to holding the city of Portland accountable for violating the constitutional rights of hundreds of people."
Four protests occurred the day of the mass detainment, the lawsuit states: a Trump Rally organized by Joey Gibson of Patriot Prayer and three other counter-protests that included labor unions, a coalition called Portland Stand United Against Hate, and a self-described anti-fascism group called Rose City Antifa.
The counter-protestors surrounded the Patriot Prayer group as the antifascists, clad in mostly black masks, clashed against rows of riot police.
The demonstrations were during a sensitive time for the city, following a double murder on a MAX light rail train in which Jeremy Christian, a 35-year-old Portland resident, was accused of stabbing three men, killing two of them, who came to the defense of two Muslim women from his alleged racist and Islamophobic taunts. Christian had been filmed at a Patriot Prayer demonstration in east Portland the month before the attack where other demonstrators tried to kick him out for spewing white nationalist rhetoric.
In the protests countering a pro-Trump rally that followed, the ACLU lawsuit claims the police actions against innocent people expressing their rights were heavy-handed, frightening and dangerous. They said bystanders were detained without individualized probable cause or reasonable suspicion, making the actions unconstitutional.
The ACLU says the detainments trampled on the First and Fourth Amendments—freedom of speech and unreasonable search and seizure -- as well as Oregon's Constitution, for not having probable cause or reasonable suspicion when they detained individuals.