Unlawfully Held
Mass detainment during protest not justified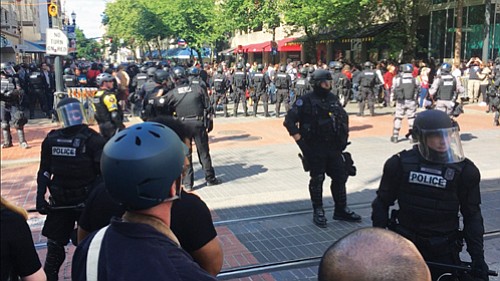 Besides Mayor Ted Wheeler, who oversees the Portland Police Bureau and was said to be at a police command center when the kettle occurred, the lawsuit names a number of police officers as defendants, including Dan DiMatto, Chris Lindsey, Jason Christensen, Michael Pool, Justin Rapheal, and Kerri Ottoman, but more may join them.
When police used the "kettle" technique to hold people, they were not given access to food or bathrooms for nearly an hour and only allowed to leave after police photographed each individual, demanded IDs, and recorded their identifying information.
Although then-police Chief Mike Marshman first denied use of the photos and then insisted that "any photographs not used in a criminal investigation will be purged pursuant to PPB policy," the Independent Police Review report found that they have still not been deleted, nor were there policies in place about the retention of digital images. Now, the photos cannot be destroyed due to a court protective order.
The IPR report also revealed an admission from an unidentified police lieutenant that police treated anti-Trump protestors differently than Trump Rally demonstrators. Many community members expressed a concern that police were being preferential to the Trump Rally, the report stated. Rose City Antifa's lack of leadership and hierarchical structure made it difficult for police to communicate lawful orders to them, the lieutenant said.
The independent review stated that the bureau "should recognize that leaderless or less hierarchical groups are not inherently more dangerous and should not be treated differently."
In response to the IPR report, police said media or legal observers at protests in the future will not be arrested or detained "solely for their role in observing, capturing and/or reporting on demonstrations or events" so long as they "obey all laws and follow all lawful orders."
The bureau also agreed that mass detentions should only be carried out under "extraordinary circumstances."
The IPR report also recommended that police use cameras during crowd events and keep a recording of encrypted radio channels for criminal proceedings and transparency. The bureau agreed to add cameras and plan to release a feasibility plan to Chief Danielle Outlaw by July 1, but disagreed about recording encrypted radio channels, citing officer and public safety.
The bureau said it plans to add guidance in regard to photographing detained individuals to their policies effective this October.
The ACLU of Oregon is asking people who were detained by police and prevented from leaving the June 4, 2017 protest to contact them via their website at action.aclu.org/legal-intake/june-4-2017-kettle-lawsuit.