More Than a Game
Coach offers kids opportunity for success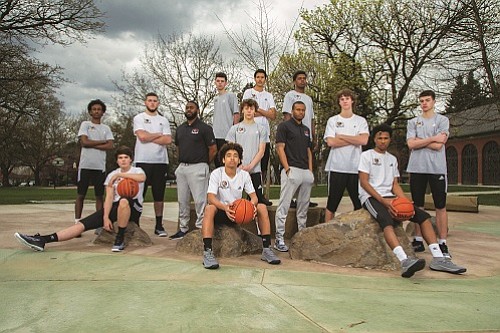 Dakota Reber, a sophomore from Wilsonville, and Omari Maulana, a freshman from Life Christian Academy in Tacoma, Wash. have both gotten interest from Division I schools, Bowie said.
He said Maulana, who was named one of the top ninth grade ball players in the state of Washington, went from being picked on to getting invited to the Crossroads Invitation in Indianapolis, an elite basketball camp for high school freshmen and sophomores, in Indiana, where he made it to the championship game.
Bowie said he was inspired to help kids reach their hoop dreams from his own upbringing in Kansas City, Kan.
"Wyandotte County [Kansas] is a rough area. It's not really conducive to get out. And I say that because a lot of people just don't get help. People that made it before me just don't really help. And so...with the family backing me, and me making pro, I felt like if I give them the blue print, then those kids that's playing under me and those kids that I'm training can be better than me and have an easier road to go pro."
Bowie, who developed a passion for basketball at an early age, broke his high school's scoring record at Washington High School in Kansas with 38 points in a game against Olathe South High School in Olathe, Kan. He went on to play for Colby Community College in Kansas, a Nation Junior College Athletic Association First Division school where he won numerous awards and distinctions from 2004-2006.
He then joined University of Central Arkansas's NCAA Division 1 team in 2006 where he attained further accolades as a high point scoring player before beginning his professional basketball career with the Vancouver BC Titans, in Canada, in 2008. He was mostly known for playing the point guard position throughout his career.
The Adidas International Elite 16U team performed in an Adidas Gauntlet tournament last month where they walked away winning three games and losing two. Later this month they will be playing games in Canada, then In July they will be heading to Wichita, Kan., where they will play at the Mullens Invitational competing against the top 32 teams in the nation.
After that, they'll be driving up to Bowie's home town in Kansas City where they'll compete in the Verbal Commits Sunflower Showcase, a tournament that has hosts elite basketball players for the purpose of college recruitment. The Elite team members will then go back to their respective high school teams when school ball starts its regular season in the fall.