Socially Conscious Films Round-Out Fest
Reviews from the Seattle International Film Festival, Part 2
6/12/2018, 3:08 p.m.
I spent five days last week at the Seattle International Film Festival, sampling an array of what was on offer for Seattle's three-and-a-half week festival. A few of these films will get a theatrical release, and many others will appear in an online platform. I reviewed six films last week; here is the balance of what I saw.
In "The King," documentary director Eugene Jarecki sets out to examine the life of Elvis Presley as a way of ruminating on the current state--or, he would say, decline--of the American experiment. Prone to expansive, well-researched premises (like the rise of the drug war and mass incarceration in "The House I Live In"), Jarecki sets this film in a series of journeys to places significant to the King, largely filmed inside Presley's Rolls Royce. Jarecki is accompanied by a series of passengers-- friends who knew Presley, musicians whom he influenced or who take a critical stance on his influential cultural appropriation of African American music, and self-appointed social commentators like Ethan Hawke. The aim here is to understand the King's life and significance, but also to mine that topic for what it has to teach about America itself. Although a bit overstuffed at times, the film is mostly a compelling rumination, accompanied by an excellent soundtrack
"Silas" is a portrait of a truth teller, Silas Siakor, whose energy, intelligence, and determination to fight corruption and environmental degradation in Liberia seems limitless. Liberia is so rich in resources that it might well be compared to Wakanda, yet it has been plagued by a 25-year civil war and unceasing corruption. This documentary follows Siakor's activism during a five-year period in which a new president, Ellen Johnson Sirleaf, had swept into office riding high hopes--including Siakor's--that she would clean up the Liberian government. Siakor's relentless commitment to exposing the truth, even with the truth is disappointing, is quite inspiring, as is his leadership of a grassroots movement to document the deforestation and environmental problems that are masked in government reports. A good education about Liberia and a solid depiction of what real leadership looks like.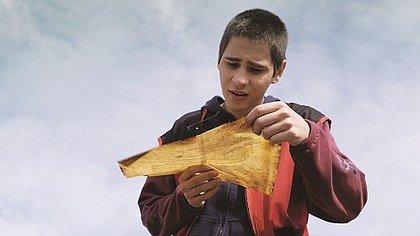 "Gold Seekers" is the work of two Paraguayan filmmakers, Juan Carlos Maneglia and Tana Schembori, who achieved some international success with their film "7 Boxes" a few years back. Although this one doesn't appear to be headed for quite so much attention, it similarly offers a (in this case comic) window into the realities of life for ordinary Paraguayans, inside a very painless package. Its story is built on the popular belief that treasure remains hidden all over Paraguay, buried by the victims of a war that ended in 1870. The film's trio of protagonists, all hoping for a way out of chronic poverty, go on a fast-paced treasure hunt that starts out Indiana Jones and turns into a kind of heist film, as they come to believe treasure is hidden on the grounds of the embassy of an African nation. The film doesn't attempt anything very complex in terms of characters or ideas, but it offers a diverting adventure into the lives of folks who would never make it to the screen in our country.