Socially Conscious Films Round-Out Fest
Reviews from the Seattle International Film Festival, Part 2
6/12/2018, 3:08 p.m.
"Doubtful" is the first film of Israeli director Eliran Elya, inspired by his own experiences working with delinquent youth. The film follows Assi, a poet and filmmaker who, as part of community service after a motorcycle accident, spends a few weeks teaching filmmaking to kids in trouble. The parts of the youths—including Eden, the troubled teenager in whom Assi finds himself making an extra investment—are played by kids with no acting experience, so some of what the director is doing is offering an empathetic and realistic look at this population of kids. Because of its realistic depiction of a marginalized population, this film has been compared to the work of the Dardenne Brothers (whose films "The Unknown Girl" and "Two Days, One Night" both made it onto my top ten lists in 2017 and 2014, respectively). I think the Dardennes' films contain more craft and social insight than this film does, but Elya does display a promising quality of attention here that may well make him a filmmaker to watch.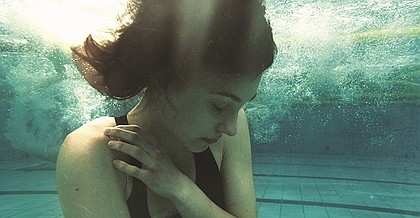 "Genesis" tells interrelated stories of three protagonists with connections to a series of racially motivated murders in Hungary. The first of the three stories--about a young Roma boy who loses a number of family members in the violence--is by far the most compelling and vivid, depicting the challenging circumstances of his life with his family and then what happens when his world is shattered. The boy barely escapes with his life, and the film then follows his response to trauma. The two other stories--involving a girlfriend of one of the perpetrators and a lawyer for one of them-- is nowhere near as compelling as the first, but the film is beautifully shot and offers an interesting window into Hungarian society.
"Time Trial" will sit with fans of cycling. But for those who, like me, need a reason to care about a sport that involves watching a sea of 200 white men race on bicycles, this film is unlikely to give you one. It focuses on David Millar, a competitor whose stint at the top of British cycling was eclipsed by Lance Armstrong and who then, like Armstrong, got busted for doping. Unlike Armstrong, he admitted to the behavior and was banned for two years. This film captures what he intended to be his comeback, holding himself out as an advocate for clean cycling and hoping for a last successful run before retiring. His body doesn't cooperate, and lots of disappointment and aggrievement ensues, but I found Millar's self-indulgence distracting. The filmmakers put a lot of technical effort into capturing what it feels like to compete in these particular big leagues; my advice is to watch only if you already care.
My least favorite of the films I saw was "The Children Act," based on a novel by British author Ian McEwan, who also wrote the highly acclaimed "Atonement" (whose film adaptation I hated) and "On Chesil Beach" (whose film adaptation was at least more believable). The impression I get from all three is that McEwan tends to write stories with very contrived emotional dilemmas. As a U.S. judge, even lacking familiarity with the British legal system, I feel confident that this story of a British family court judge who seems to handle multiple high-profile cases per week and somehow manages to live in a central London apartment so tastefully appointed that it belongs in Architectural Digest is pure flim-flam. Its view of the law is too sanitized, its view of religion is offensively dismissive and simplistic (two of the judge's cases involve religious parents objecting to life-saving treatment for their children—and both arise in the same week), and I doubt very much that a family court judge in London lives this well without being independently wealthy. Even the great Emma Thompson can't save this movie; in fact, she appears to have succumbed to middle-aged vanity that makes her character even more implausible (no woman in her late-50s who works all the time looks this toned), and the plot-line involving her marital troubles (which the film diagnoses as a stale sex life) with the husband who supposedly loves her even though she doesn't so much as engage him in conversation for months on end —well, I didn't believe a word of this movie, which is nevertheless receiving good critical notice. My advice: don't bother.