County Sues Trump Administration
Suit filed for changes to federal sex-ed grant requirements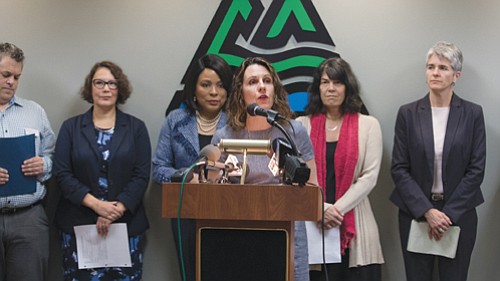 Mulnomah County is suing the Trump administration for restricting a teen sex education grant to apply to abstinence-only curriculum.
The suit, which was filed with the help of legal nonprofits Democracy Forward and Pacifica Law Group, alleges that the Trump administration's actions violated congressional requirements that the grants be issued to evidence-based sex education. The lawsuit will attempt to prevent the federal government from implementing the new guidelines.
"The administration wants programs based on wishful-thinking. That doesn't work, Mr. President," Multnomah County Chair Deborah Kafoury said, when she announced the lawsuit being filed on Friday. "Teens, parents and teachers need accurate information so young people can make healthy choices."
Three years ago, the county received a five-year grant used to train middle and high school teachers, in partnership with community nonprofits, that focused on safe sex, consent, contraception, and established methods to reduce teen pregnancy and spread of sexually transmitted diseases.
When the funding was cut two years prematurely, Multnomah County joined a federal class action lawsuit against the Trump administration which required them to re-establish the grant. Since then, the administration has changed the guidelines to privilege abstinence-only sex-ed. The county is suing with the help of nonprofits Democracy Forward and Pacifica Law Group to make sure halt the grants implementation.
The county was originally awarded $1.25 million each year to educate 15,000 teens, train 107 teachers, and engage 329 parents and caregivers in 32 middle and high schools, county officials said.
From 2005 to 2015, teen pregnancy rates declined in Multnomah County 57 percent, according to county data. The grant helped support that trend, officials said.
Oregon law also requires the inclusion of information on contraception and disease reduction measures alongside abstinence education.