Green and Equitable
Dispensary represents progress and end to war on pot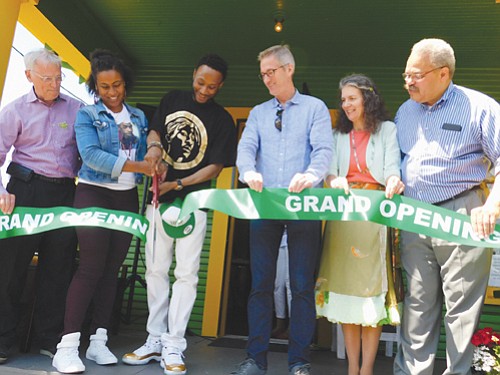 The opening of an African-American owned and hip-hop themed dispensary, a world first, in northeast Portland, shows promise for bringing economic growth to a disadvantaged community while also giving back through its unique training program to help other members of the community find economic opportunity in the legal cannabis industry. The store opened with the support of high-ranking public officials Saturday.
"This is more than a store, this is a representation of equity," said co-owner Karanja Crews, who grew up in the same neighborhood as the store.
Called Green Hop, the dispensary near the corner of Northeast 16th Avenue and Killingsworth Street, sat freshly painted in bright green and yellow trim for its grand opening, appropriately on rapper Tupac Shakur's birthday. Crowds of people eagerly awaited entrance and blasts of hip-hop were audible on the sunny day.
The store has posters, artwork, and vinyl records of the late rapper, along with Nas, Wu-Tang Clan, A Tribe Called Quest, and other legends of rap. It also features strains of cannabis that pay homage to hip-hop, like "Makaveli," the pseudonym of Shakur in the latter part of his career, and "Street Dreams," named after a Nas song, dispensary co-owner Nicole Kennedy told the Portland Observer.
"In the 90s, hip-hop culture really normalized cannabis use and made it as part of a lifestyle, rather than making it so taboo," Kennedy explained.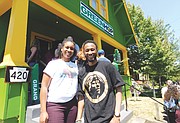 Crews and Kennedy, who are both from Portland, hope to raise awareness, and even help reverse some of the racial disparity issues associated with the cannabis industry, such as gentrification and America's history of waging war on pot.
Their business has already won a grant and partnered with a nonprofit education agency to train aspiring youth of color who want to work in the legal cannabis industry, as well as offering paid-internships for career advancement of newcomers.
"We're training people of color to get them into the industry and to help them have a way in. Because the industry is very network based, and it's really white-washed. But when you look at who has been targeted for cannabis crimes, it's mainly people of color. We over represent the prison population when it comes to cannabis crimes [and] are severely underrepresented in the legalized cannabis industry," Kennedy said.
The training program will also look into record-expungement options for prior cannabis offenders.
State Sen. Lew Frederick, an African American lawmaker from Portland who has worked on bills to lessen the blow of marijuana offenses in the past, emphasized the importance of practices like the expungement of convictions for past possession of a drug that is now state-legal.
"We have seen several generations of young black men and young black women become felons," Frederick said at the Green Hop ribbon-cutting ceremony. By getting these convictions expunged, he said, folks can actually "get jobs, get housing, get education, get loans to become entrepreneurs in the community."
The dispensary was the recipient of a $96,000 grant from the city's three percent cannabis tax for the purposes of workforce development and support for minority-owned cannabis businesses.