Not Backing Down
Protestors encamped at ICE building
6/27/2018, 11:30 a.m.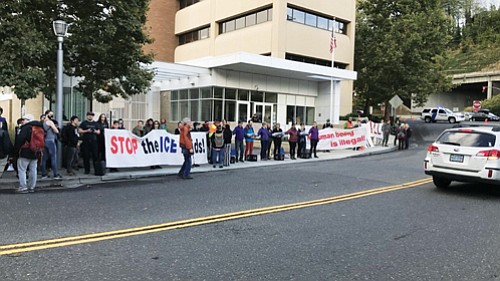 Federal law enforcement officers distributed notices Monday to protesters encamped outside the Immigration and Customs Enforcement (ICE) building on Southwest Macadam Avenue ordering them to vacate the property, under threat of arrest, even as the protestors called for more to join them.
"While demonstrators have a lawful right to assemble and voice their concerns, blocking the building's driveways or entrances are not permitted under federal law," U.S. Attorney for Oregon Billy J. Williams said.
The notice came a few hours after federal police officers entered the building in the dead of night to secure government property.
"Occupy ICE PDX" organized the protest to respond to the Trump Administration's recent "zero tolerance" immigration policy which has resulted in the separation of nearly 2,300 immigrant children from their parents arrested at the U.S.-Mexico border.
In another protest downtown, hundreds gathered on the steps of City Hall Sunday calling for the shut-down of ICE. State Rep. Diego Hernandez, D-Portland, and State Sen. Michael Dembrow, D-Portland, joined the rally.
In addition, Oregon Attorney General Ellen Rosenblum said Tuesday that the state has joined a multistate lawsuit demanding the impacted children get reunited with their families.
Multnomah County is also opposed to the separations. County Chair Deborah Kafoury indicated last week that contracts the county has for child mental health services are not funding programs for immigrant children in federal custody and the county has expanded legal aid services to immigrant families.