School Band on a Lifeline
Sounds of Jefferson is back; but program needs funds
Beverly Corbell | 3/6/2018, 12:41 p.m.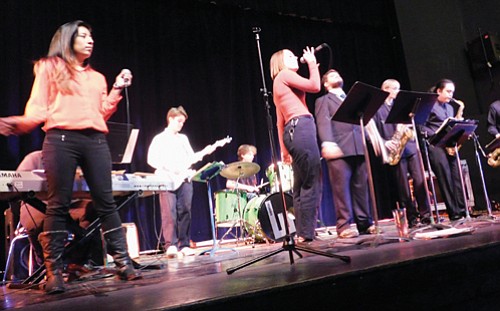 Money raised would be used for instruments and repairs, instructor's salaries, funding for Pacific Northwest Heatwave to go on tour this spring, and to start funding for Sounds of Jefferson to tour in 2019, she said.
The program is also good for students because they can learn and perform music as an extracurricular without affecting their academic standards.
Little said many who went through the earlier Jefferson music program went on to successful careers in music, and two members of last year's Sounds of Jefferson band are now majoring in music at the University of Oregon.
Tyler Barcos, who graduated from the Vancouver School of Arts and Academics last year, said being involved with both Sounds of Jefferson and Heatwave is also helping him pursue his dreams. He has a little studio in his room where he composes and records, he plays trombone and trumpet, and he like jazz and funk.
"I'm one of the more senior people, so I can help others," he said. "My ultimate goal is to start working on the technical side of the music industry, producing and being a sound technician, and still composing," he said.
Jefferson High junior Daria Stallions, who plays flute and saxophone, came out of a classical music background at Hosford Middle School in north Portland and is a member of Sounds of Jefferson. Although she's not planning a career in music, she said the benefits are far reaching for other fields.
"Just the experience of performing and gigs and setting things up and taking them apart, you develop skills to know how to do that, and it helps you in life," she said.
Little said the experience the kids get performing and practicing can have similar end results to that all-time favorite extracurricular activity — sports.
"It's like athletics. If you want to get any kind of baseball scholarship, or basketball, or girls' volleyball ball or swimming, you have to be on a traveling team," he said. "I've seen other (after school) music programs that are unbelievable successful, throughout the country."
The gofundme campaign is just part of fundraising, and Heatwave will present a showcase fundraiser at Jefferson on Saturday, March 10.
A dress rehearsal at the school auditorium proved that the band is performance ready. As an R&B cover band, the flawless performance rivaled any Las Vegas show band, with Tapia belting it out as one of the vocalists.
There were only a dozen or so folks in the audience, but if the performance had been before a packed auditorium, the applause would have been deafening for outstanding renditions of classics like "Proud Mary" and "Signed, Sealed, Delivered" as well songs from Bruno Mars and Tower of Power.
When Pacific Northwest Heatwave hits the road next month for a March 29 through April 3 tour, they'll perform mostly in schools, but will also have a recording session at EastWest Studio in Hollywood. Their biggest event will be a performance at the famed Whisky A Go Go in Los Angeles, Little said.
"It's a huge rock and roll venue and we're a R&B cover band, so we're really excited to get that gig," he said.