Geriatric Otter Loves Hoops
3/7/2018, 10:01 a.m.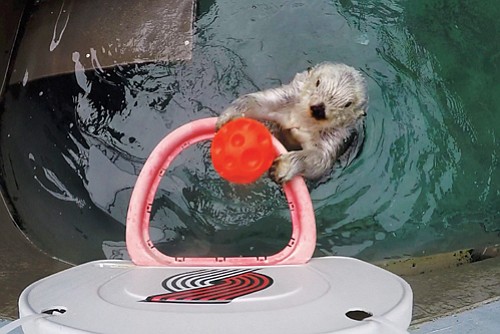 Eddie, the Oregon Zoo's ultra-geriatric sea otter, turned 20 Friday, but keepers and basketball experts agree: He can still dunk with the best of them and might even have the highest shooting percentage in town.
"Male sea otters seldom live past 15 years, so Eddie's among the oldest of his kind," said Nicole Nicassio-Hiskey, the zoo's senior marine life keeper. "He still loves to play hoops though, and he's definitely still got game."
Animal-care staff trained Eddie to dunk a toy basketball as therapy for his arthritic elbow joints in 2012. A video about his behind-the-scenes exercise routine went viral the following year, clocking more than 1.7 million views on the zoo's YouTube channel, and making him one of the most famous animals on the Internet.