Disaster in Cully
Scrap yard fire destroys homes; brings evacuations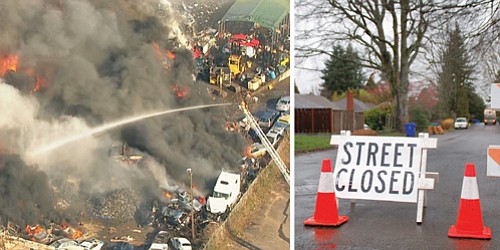 A 5-alarm fire that started Monday morning at an auto salvage yard in the Cully Neighborhood spread to nearby homes, destroying an apartment and duplex and displacing at least four families, killing more than a dozen cats, and forcing the evacuations of an estimated 2,000 to 4,000 residents.
An evacuation order that initially encompassed a mile radius in the vicinity of the fire at Northeast 75th Avenue and just south of Killingsworth Street was expanded Monday night to thousands more as noxious chemicals from the burning of tires, auto parts, and plastic filled the air.
The evacuation prompted Multnomah County and Red Cross to open an emergency shelter on 1415 S.E. 122nd Ave. where 141 people and several of their pets sought shelter Monday night.
Emergency officials announced Tuesday morning that it was safe for most residents to return to their homes, air quality tests confirmed.
A Cully neighborhood resident who chose to remain anonymous said he first noticed a heavy orange and yellow smoke from the fire around 9 a.m. Monday. The smoke soon settled down to street level and he said it gave him a sore throat and he had trouble breathing.
Another eyewitness, Ajit Stingh, 65, saw firefighters rush to the scene while people were scattering holding their faces and wearing masks. He was tending to his store, Portland Market and Deli, on Northeast Killingsworth and Cully Boulevard.
Colleen Ek Ishiyamna, an administrative assistant at Trinity Lutheran Christian School on Killingsworth, said the plume of smoke darkened the sky above the school before it descended down on them.
"It was such a beautiful day and then all the sudden, can't even play [in it]," he said.
The school canceled recess and other activities for the rest of the day while keeping students indoors. They canceled school Tuesday.
Ek Ishiyama said many of the school's parents are from the Latino community that lives at a nearby apartment complex, Villa de Clara Vista. Many of them had to spend the night with other friends and family members.
Public health officials from Multnomah County said smoke from the fire, which was still smoldering on Tuesday, can irritate people's eyes and respiratory system and can particularly impact young children, the elderly, and people with heart and lung problems.
A fire in an auto salvage yard, with its many tires and fuels, can be especially toxic, carrying things like asbestos, aldehydes, acid gases, and sulfur dioxide.
If anyone experiences trouble breathing, chest tightness, lightheadedness or unusual tiredness they should contact a healthcare provider right away, county officials said.
The public can sign up for public safety alerts at PublicAlerts.org for the latest information, call 211 for shelter assistance, and call 503-823-2323 for transportation assistance.