Generals Take State!
Grant bests Jefferson in exciting final
3/13/2018, 4:25 p.m.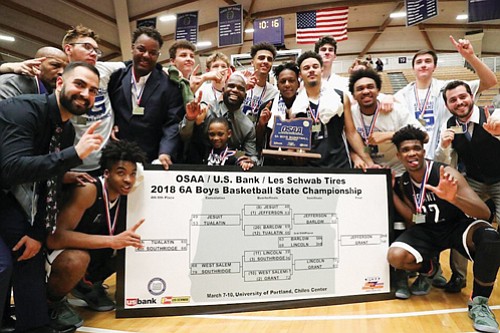 Congratulations to Grant High School on their first state championship in basketball in 10 years after scoring a 63-62 victory on Saturday against cross-town rival and defending champion Jefferson in the final of the 6A Boys' tournament at the University of Portland's Chiles Center.
Ty Rankin cinched the tying and winning baskets for the Generals when they were down one with only seven seconds left by sinking two back-to-back free throws.
Though the Democrats were without their Portland Interscholastic League player-of-the-year Marcus Tsohonis, due to an injured finger, the teams were neck and neck throughout the game thanks in part to a demanding performance from Jefferson senior Khall Chatman, who singularly scored 30 points and 12 rebounds. Jefferson even seemingly had the Generals cornered in the last moments of the game, leading 62-61, while Grant went minutes without scoring.
The Generals' win represented a rebound against the Democrats who had won a previous seven straight games against Grant over the past two years.
In the Girls State 6A championship bracket, Benson High School finished a dream season by making it into the final contest at the Chiles Center Saturday, but fell to defending champion Southridge, 46-27.