Empowering Women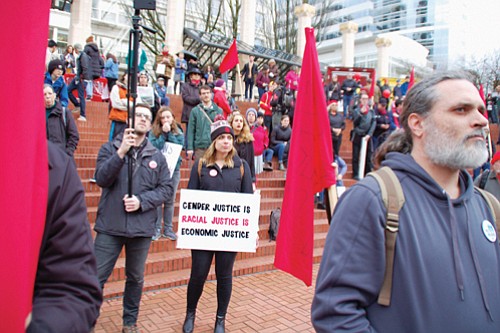 Protesting the economic inequality and oppression women face at home and internationally, over 200 women from all walks of life rallied in Pioneer Courthouse Square and then took to the streets downtown for International Women's Day. The demonstrations last Thursday were among many marches and rallies calling for social change held across the world.
A common target was President Trump.
"Women in the developing world are making a special call on women on the U.S. to make the spirit of International Women's Day against our president, who embodies the capitalist patriarchy in many ways," local organizer Alyssa Pariah told the Portland Observer.
Pariah is a leader of Don't Shoot Oregon, the civil rights group that organized the rally and a local organization that was born in 2014 in response to police shootings of unarmed black men across the country.
Local students, stay-at-home mothers, sexual assault victims, and small business owners spoke to the large crowd at Pioneer Courthouse Square for about an hour addressing issues such as unequal pay, sexual assault, and violence against women. The crowd then marched in the streets holding signs and blocking traffic until they concluded at the waterfront about an hour later.