Gun Control for Domestic Abusers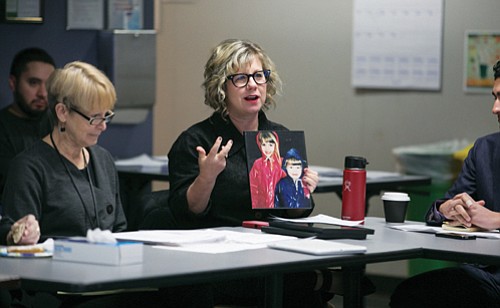 The focus on preventing gun violence took a big step in Oregon last week thanks to a bill signed by Gov. Kate Brown that makes it harder for people convicted of domestic abuse to get guns, as well as a lesser known law implemented in January that allows courts to temporarily ban individuals shown to be at high risk of harming themselves or others from obtaining guns.
Brown signed the so-called 'boyfriend loophole' law to eliminate a situation where abusive intimate partners who do not reside under the same roof as their victims could still obtain guns. It also restricts gun access to people with restraining orders.
The Extreme Risk Protection Order law that started with the New Year allows courts to prohibit someone from having guns or other deadly weapons if there is probable cause that they pose significant danger to themselves or others.
Such a measure could very well have altered the outcome of a multiple homicide in 1995 that robbed Oregon psychologist Doreen Dodgen-Magee of her sister-in-law and three young nieces. They were shot and killed by an abusive ex-partner and father.
Dodge-Magee's sister-in-law, Laura Whitson, was married for eight years to David Whitson before her partner's emotional abuse forced her to move with their kids to her mother's home in Scott Mills.
He later broke into his ex wife's house and raped her, which resulted in a pregnancy. She then got a restraining order against her husband, but he still retained a right of supervised visits with the children. Later, enraged that he wasn't part of their child's first day of kindergarten, he showed up to their house with a gun.
"Dave shot his way into the house with a rifle. My mother-in-law, Sarah, Rachel and baby April (6 months) were hiding in a bathroom—they ran outside." Dodge-Magee said. "He ran out and shot them all. My mother-in-law was shot in the arm but survived."
The incident traumatized the small town of 400 and David Whitson, who was sentenced to life in prison, later died by suicide while behind bars.
Under the new abusive intimate partner law, any kind of existing restraining order can be grounds to removing guns from an individual's possession, even if they do not live under the same roof.
The order can be issued if clear and convincing evidence that someone is at risk of suicide or harming others with a deadly weapon in the near future is presented to a judge.
"We believe it can save people's lives," Multnomah County Chair Deborah Kafoury told the Portland Observer. "If anyone sees imminent risk of someone doing harm to others or themselves, they should call the court to get more information."
Unlike the boyfriend loophole bill, which is geared specifically at intimate partners, an Extreme Risk Protection Order can have a much wider-reaching net, Kafoury explained.
"It can be a friend, it can be a spouse, it can be your child. This really could have had an effect to stop the gunman at Marjory Stoneman Douglas High School [in Parkland, Florida]," Kafoury said.