Gun Control for Domestic Abusers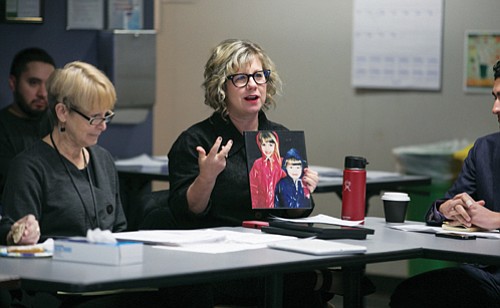 The gun safety advocacy group Everytown for Gun Safety analyzed every mass shooting—where four or more victims were killed--in the U.S. from 2009-2016 and found that 54 percent of them were committed by intimate partners or family. In 42 percent of the cases, the perpetrator showed warning signs before the shooting that they were a danger to themselves or others. Red flags included acts or threats of violence, violations of protective orders, and evidence of ongoing substance abuse.
For example, Everytown researchers found that the Sandy Hook shooter previously threatened to kill his mother and children at the Newton, Conn. elementary school years before fatally shooting 20-children and six adults at the school in 2012, according to FBI documents.
In Oregon, once an Extreme Risk Protection Order is in effect, the person must surrender any deadly weapons within one day to a law enforcement officer, a licensed Oregon gun dealer, or an eligible third party that can lawfully possess firearms.
The order lasts for one year, unless discontinued by the court, and can be renewed by a judge when evidence of imminent risk still exists. Subjects can request a hearing to contest the order or renewal, which must be granted to them within 21 days, but the prohibition remains in effect until that time.
Other states with similar laws include Washington, California, and Indiana. Connecticut was the first state to adopt this type of measure, which they call a risk-warrant, in 1999. A recent analysis by Dr. Jeffrey Swanson of Duke University demonstrated the law's effectiveness for saving lives in the state.
Of the 762 risk warrants that were issued in Connecticut from 1999-2013, police found guns in 99 percent of cases and removed an average of seven guns per subject. The measure was also shown to reduce suicide deaths; for every 10 to 20 warrants issued, one life was saved. Despite their elevated risk of self harm, 88 percent of warrant subjects were previously not known to the state's public behavioral health system and nearly one third received treatment as a result.
Dodge-Magee has been working with Moms Demand Action, an affiliate of Everytown for Gun Safety, for the past year.
"My hope is [that these laws] will not only make our schools safer, but make all our communities safer," Dodge-Magee said. "We're not anti-gun ownership; we're all about responsible gun ownership."