Inspired Creations
Portland man builds unique, sustainable birdhouses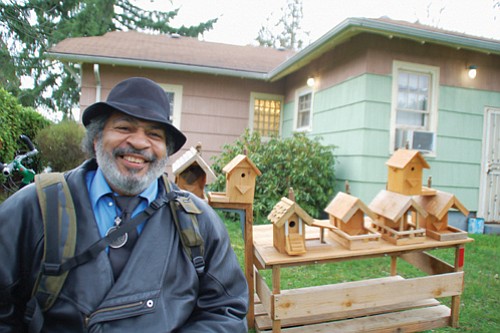 You won't see a more popular street vendor with humans and animals alike than the birdhouse toting George Mayes, who makes a striking impression on street corners with his bicycle and hand-crafted wooden trailer.
Packed full of what looks like rustic, miniature cabins -- some even complete with chimneys, staircases, awnings and roof shingles – the cart is loaded with the future nesting homes for our feathered, flying neighbors.
Hardly a moment can pass before a customer dogs him about his creations or just gets enraptured with conversation. With his towering frame, white beard, and a bellowing laugh like Santa Claus, the 62-year-old has a knack for putting smiles on stranger's faces.

A former carpenter, Mayes said he's always thrived on working with his hands.
"I enjoy, you know, craftsmanship and building. It seems like it just opens my mind up," Mayes said.
His birdhouses are also environmentally friendly. He uses recycled, organic materials, like cedar and found branches, to create green birdhouses that can even thwart predation of smaller birds. The traditional birdhouse perch, which is usually done in the form of a dowel jutting out from the feeder, sometimes attracted larger, predatory birds, Mayes found. So he redesigned the birdhouses so that they used a diamond shape ledge half an inch wide so smaller birds could feed in peace.
He's even designed original bat-houses, upon a customer's request.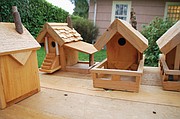 Mayes is known for selling his artistic creations, which range from $30-$50, in front of the Multnomah County Courthouse, downtown; along Hawthorne at Powell's Books; at Good Samaritan Hospital in northwest Portland and in front of the New Seasons Market on the corner of North Interstate and Rosa Parks Way.
Always seeing the glass half full, Mayes has battled gout as a medical condition and homelessness, but never gave up being productive. It was around eight years ago that he began making birdhouses as a hobby when he was homeless and it's since blossomed into a fruitful enterprise, supplementing his retirement income.
"As I was out being homeless, I was working on helping other homeless people get housing. And as I was waiting on mine to come in, I was like, what could I do that's positive while I'm out here homeless, instead of just saying 'oh man this is not good?'" Mayes explained. "My thing was I could help other individuals, give them some type of guidance, a positive tip and encouragement."
Through that mutual support, and proactively looking for solutions, he has since pulled himself out of homelessness.

The gout that Mayes has been battling most of his life still brings aching pain in his hands and feet that presents mobility challenges, especially in winter when his joints swell. It's also responsible for his resignation from the full-scale carpentry trade. He used to help build customized houses all across the West Coast for homes in the $300,000 to multi-million dollar range.
Despite hospitalizations and some challenging cold snaps that recently prevented him from building and selling the birdhouses, Mayes said he's now gathering his strength to start production back up again.