'It's Our Place to Speak Out'
A generation tormented by gun violence comes of age
Lauren Maland | 3/20/2018, 3:55 p.m.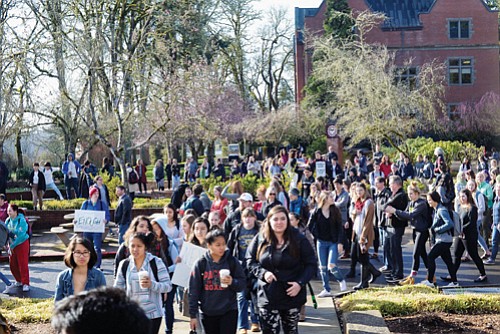 I was only a year old when the mass shooting at Columbine High School in Colorado rocked the United States in 1999. Since then, 215 shootings have occurred on school campuses across the county alone. Countless other acts of gun violence have been committed in places of worship, at concerts, and on our streets, including police officer involved shootings.
To say that my generation, whatever you may call us, has no place in discussing gun violence is ludicrous. We are the kids who spent every year at school practicing intruder drills alongside natural disaster drills. We are the kids whose parents, out of the fear of gun violence, would hug us a little tighter before dropping us off at school, something we wouldn't understand till we were old enough to know the truth. To know that being at school was not enough to keep us safe.
My thoughts turned to feelings of sadness, anger and fear on the morning of March 14 when I joined my classmates to say "enough is enough," #enoughisenough, attending a rally in solidarity with nationwide student protests against gun violence. At 10 a.m. that day, Pacific University joined schools across the country in a walk out to signify that the students of this country will not sit by and continue to allow acts of violence to be perpetrated in our schools without action.
Pacific's walkout was organized by our undergraduate Student Senate and included several opportunities for students to let their voice be heard. This included writing letters to U.S Rep. Suzanne Bonamici who is a member of Congress from Washington County, writing on a #Enough banner, and suggesting topics for a follow up forum on gun violence that will occur at Pacific on April 10. Pacific's Young Democrats brought computers along to help inspired students register to vote, a vital way we can hope to make our voices be heard in the political sphere.
A crucial part of the Pacific walk out came when speakers reminded students why they were there and in a call for unity asked that their message not to be divided by politics.
Katie Lightcap, the student senate president, reflected on her experience in high school in 2015 when she was at Roseburg High School fearing for her safety because of a mass shooting that happened on the same day at Umpqua Community College in Roseburg.
Pacific sociology professor Jaye Cee Whitehead spoke on the complexities and intersectionality of gun violence, and urged students to demand an education without fear of gun violence. Rev. Chuck Currie, the director of Pacific's Center for the Peace and Spirituality and an assistant professor of religious studies, finished the programming by reminding students that we have the power to make change and that we should demand real solutions from our government.
There was an atmosphere of heavy hearts throughout the walk out, but the rally ended with students having a better sense that they can and will create change.
We cannot let this issue become yesterday's news. Every day you can do something to contribute to a movement against gun violence. Start conversations, ask questions, educate yourself on local politics, and vote. Support the young activists in your community because at the end of the day this issue is not just about politics or guns, it is about students feeling safe in school.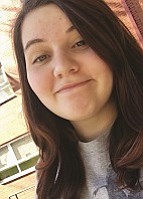 Lauren Maland is a criminal justice and applied theater major and member of the Class of 2020 at Pacific University.