Rising to the Top
August Wilson finalists in diversity in the arts competition
3/20/2018, 3:37 p.m.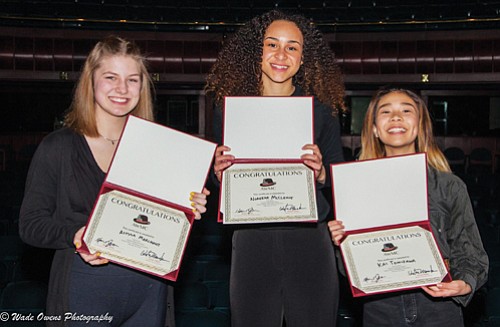 Thirteen young women representing 10 different Portland-area high schools gave their all at the recently competed August Wilson Monologue Competition at the Newmark Theater, an annual event to promote diversity in the arts.
The students were cheered on by a large and exuberant crowd and by each other. Rising to the top were Alyssa Marchant, a junior at Rex Putnam High School, in third place with an emotional rendition of Tonya from "King Hedley II." Kai Tomizawa, a freshman from Grant High School, came in second place with a gender-bending portrayal of Becker's changed confrontation with his son in "Jitney." And Noreena McCleave, a senior at Wilson High School, brought down the house with laughter as Memphis from "Two Trains Running."
Tomizawa and McCleave will be continuing on to represent Portland in the National August Wilson Monologue Competition in New York in May.
The local competition was the culmination of a program that began in October, when teaching artists from Portland's nonprofit August Wilson Red Door Project began visiting high schools to give a presentation about August Wilson, the late black Pulitzer prize winning playwright for drama, and his legacy.
While Kai and Noreena are getting an all-expenses-paid trip to New York for National Finals, all of the participants went home with fabulous prizes in recognition of their dedication.
The top two finalists will undergo further coaching to hone their performances. They have big shoes to fill – Portland's first-place winner last year went on to take third place nationally, and the second-place winner from 2015 is now starring as Ti Moune in the Broadway revival of "Once on This Island."
Portland to Broadway. Just like that. And these two young women could be next!