Gang Enforcement Team Faulted
Audit finds lack of accountability reduces trust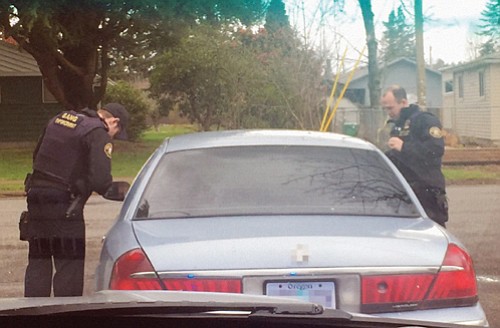 A new city audit finds that the Portland Police Bureau's Gang Enforcement Team is hindered by a lack of accountability and transparency that reduces community trust.
In two reports issued Wednesday, March 28, City Auditor Mary Hull Caballero says gang enforcement officers carried out traffic stops that disproportionately affected black residents. The stops were too broad and not limited to criminal gang suspects, community members said.
The gang enforcement team also collected and shared information about people's gang associations, but these practices suffered from lack of accountability and concerned residents, the auditor found.
"We found that the Police Bureau cannot demonstrate that these stops were effective. This was because the Bureau did not require officers to collect certain information and also did not analyze available data," a summary from the reports said.
Without this data, the Gang Enforcement Team cannot analyze or explain the overrepresentation of African Americans in its stops, Caballero found.
For one practice, designating some people as criminal gang affiliates, the Police Bureau could not show that it complied with its own policy.
The Police Bureau acknowledged the community's mistrust of suspected gang lists last year and stop compiling them in October. But a second practice, making a list of most active gang members and associates, was still in use at the conclusion of the audit.
If police continue the most active list or other practices of collecting information on people's gang relationships, we recommend it should adopt a policy and put safeguards in place to protect people's rights and the accuracy of the information, the audit said.
In her formal response, Portland Police Chief Danielle Outlaw agreed with the recommendations outlined in the reports. She said the Bureau has already made changes to its policies and practices as a result of the audits, but said there's still room for enhancements.