Videos Promote Pedestrian Safety
Aiming to eliminate traffic-related deaths and injury
3/28/2018, 11:10 a.m.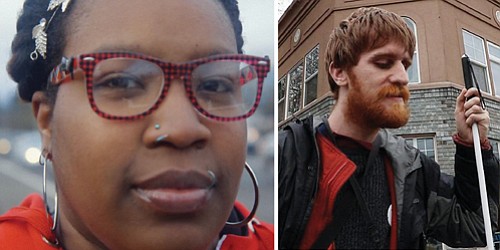 A series of eight videos highlighting the pedestrian experiences of Portlanders with differing abilities navigating the city are now available to watch online to promote safety and improve the city's walkability.
The 1-3 minute short films sponsored by the Portland Bureau of Transportation were screened last Tuesday with the filmmakers, subjects, and general public at the University of Oregon's White Stag Block, downtown.
The videos were made in conjunction with the school's Multimedia Journalism Master's students, and included work by Portland Observer reporter Danny Peterson.
Some highlights include a video that follows David Bouchard, a man with blindness, as he navigates the hardships of getting around on foot.
Filmmaker Mary Ann Funk captures in harrowing detail the moment when Bouchard braves crossing the street without a crosswalk in outer east Portland, where traffic lights are sometimes far and few between.
Another story by filmmaker Gordon Klco sees Anjeanette Brown face the challenges of "walking while black" in the northeast Portland neighborhood she grew up in, now radically altered by gentrification.
Another video about birdhouse builder George Mayes highlights how he gets around with the custom bicycle cart that carries his creations.
The videos can be seen on pedpdx.com, the website for Portland's citywide pedestrian plan called Vision Zero to eliminate traffic-related deaths and injury.